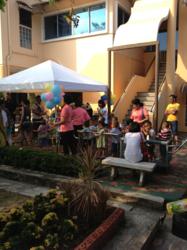 they believe that every little effort they put in will make a huge difference in the long term and will enable these kids to lead a happy and healthy life in the future
Bangkok, Thailand (PRWEB) February 06, 2013
Turnkey Real Estate Provider, Property 4 Prosperity, is deeply involved in charitable work to improve the lives of children in other part of the world.
The President, Chayot Ing-aram and the Vice President, Jennifer Ing-aram of Property 4 Prosperity, Inc. started off this year by doing an ample amount of charitable work to make a difference in the lives of unprivileged and abandoned babies in Thailand.
According to Thai law, only abortions of pregnancies due to an act of incest or rape or ones that endanger the lives of the mothers are legal. It is common for unwanted babies to end up being abandoned by their parents. The government of Thailand is responsible to help care for these children; however, the amount of help rendered by the government is very much insufficient and does not match the welfare needs of these innocent lives.
Chayot Ing-aram and Jennifer Ing-aram generously and open-heartedly donated items required for the well-being of the children at Pakkred Babies Home. The items included baby clothes and towels, milk powders, toys as well as commercial food processors. All these items are basic necessities required to care for children and to provide them with a healthy and happy childhood.
The president and vice president of Property 4 Prosperity, are planning to donate a portion of their revenues to Pakkred Babies Homes every year. They are also extremely grateful to their clients from Australia, Thailand, New Zealand and other parts of the world for offering them great support in their endeavors to help these children. Moreover, they appreciate their clients for also contributing in the donations and making a difference in the lives of these children.
At Property 4 Prosperity, Inc., they believe that every little effort they put in will make a huge difference in the long term and will enable these kids to lead a happy and healthy life in the future. These are some of the businesses that take responsibility for the society they live in and set new CSR standards to make their society better.
To know more about the services offered by Property 4 Prosperity, Inc., you can visit their website http://property4prosperity.com/.
About Property 4 Prosperity, Inc.
Based in California, Property 4 Prosperity, Inc. is a firm that offers services of finding properties for interested overseas clients. They tend to simplify the complex procedures involved in the acquisition and management of real estate. They assist investors situated in America, Australia, New Zealand, and Thailand and from other parts of the world to profitably invest in American real estate.
They collaborate with the best property managers and turnkey suppliers in the real estate industry in various cities of America. Well-informed and highly experienced in the real estate industry, Property 4 Prosperity, Inc. is known for striking real estate investment deals for investors that give a high return.
For further information, you can contact them using the details given below.
Contact Details
Web: http://www.property4prosperity.com
Phone: +1 (626) 818-9705