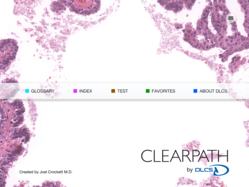 "We're confident that this will become an invaluable resource not only for residents, but also for dermatologists throughout their careers."
DAYTON, Ohio (PRWEB) February 04, 2013
Dermatopathology Laboratory of Central States (DLCS), an anatomic pathology and cancer genetics laboratory, is pleased to announce the launch of CLEARPATH, the first interactive education resource app for dermatology residents and clinicians. The app is available for download at http://www.clearpathapp.com. CLEARPATH was developed to be a supplemental resource tool and pocket reference guide for education in dermatopathology.
Dermatologists and residents attending the upcoming American Academy of Dermatology Meeting in Miami Beach, Fla., March 1-5, can stop by the DLCS booth (#2625) to receive a complimentary copy of the app.
"We're dedicated to furthering the education of dermatology residents," says Dr. Thomas G. Olsen, founding director of DLCS. "So when one of the dermatology residents approached us with this novel idea to create an interactive library of disease states in the form of an app, we knew we had to help develop it. We're confident that this will become an invaluable resource not only for residents, but also for dermatologists throughout their careers."
ABOUT DLCS
Dermatopathology Laboratory of Central States (DLCS) is an independent, national dermatopathology laboratory whose goal is to provide physicians with accurate diagnoses of skin biopsies. DLCS has a focus on quality, efficient service, and education — all essential to our dedication to patient care. For additional information about DLCS, visit http://dermpathlab.com.