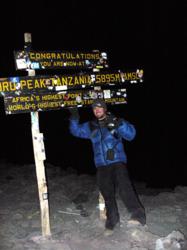 ...having someone with hemophilia pushing the limits is a cool story... but I hope it raises awareness of the discrepancy in treatment.
Georgetown, MA (PRWEB) February 02, 2013
LA Kelley Communications, Inc. announces today that a young man with hemophilia will attempt to summit Mt. Aconcagua in Argentina. He is believed to be the first person with hemophilia to attempt the climb.
Chris Bombardier, age 27, from Denver, Colorado, has severe factor IX deficiency, also known has hemophilia B. Hemophilia is an inherited blood-clotting disorder in which the blood is unable to form a clot due to the absence of one of 13 sequential clotting proteins, called factor.
Aconcagua is a 22,847 foot mountain located in northern Argentina, near the border of Chile. It is the highest mountain in the Americas. Chris's climb up Aconcagua is part of his unprecedented Seven Summits climb; no one with hemophilia has achieved all seven summits—the highest mountains on each of seven continents.
"Obviously I hope to summit," the Denver native shared in a recent telephone interview. "I also hope to raise greater awareness of hemophilia globally. Most people in the States don't even know about hemophilia; think about how little is known worldwide. I think having someone with hemophilia pushing the limits is a cool story in itself, but I hope it raises awareness of the discrepancy in treatment."
Chris sits on the board of the international nonprofit, Save One Life, which is dedicated to assisting impoverished individuals with hemophilia in developing countries.
Chris already has knocked off one summit: Kilimanjaro in Tanzania, which he climbed in April 2011, becoming the first American with hemophilia to summit. To treat bleeds on his climbs, he injects a long lasting factor IX replacement drug, currently in clinical studies, which, he says, is working well to clot his blood. He plans to infuse on the mountain as needed.
Chris will be climbing the Ameghino/Upper Guanacos route. He'll be climbing with two guides and eight other climbers. Chris's climb is being funded by LA Kelley Communications.
"We start the climb on Tuesday, January 29 with a hopeful summit day around February 7 or 8, says Chris. "I posted a thorough itinerary of the climb on my new website and blog." Chris hopes that he inspires people to donate to Save One Life; while his climbing costs are covered, every penny he raises goes to helping run Save One Life, which serves over 1,000 people with hemophilia in ten developing countries who live on about $1 a day.
While in Argentina, Chris also hopes to meet the La Fundación de la Hemofilia, the Hemophilia Foundation of Argentina, one of the world's first hemophilia nonprofits. Carlos Safadi, a lawyer with hemophilia who sits on its board, also serves on the executive committee of the World Federation of Hemophilia. Carlos writes, "It will be my pleasure to welcome Chris to the Foundation."
Visit http://www.adventuresofahemophiliac.com to read more about Chris and his momentous climb. Show your support by making a donation in any amount to Save One Life at http://www.saveonelife.net.
About LA Kelley Communications, Inc.
Since 1990, LA Kelley Communications has been a world leader of groundbreaking educational materials and programs on hemophilia and related bleeding disorders. With more than a dozen books, numerous publications, and the oldest hemophilia newsletter in America, LA Kelley Communications remains a trusted source of practical information about raising children with bleeding disorders. The company also founded and operates Project SHARE, which donates about $6 million worth of clotting drugs to developing countries annually. Laureen A. Kelley, mother of a child with hemophilia, founded the company in response to the need for practical consumer and parenting information on bleeding disorders, and to help the world's poor with bleeding disorders. For more information, visit http://www.kelleycom.com.
About Save One Life, Inc.
Save One Life is a nonprofit organization that financially supports individual children and adults with a bleeding disorder in developing countries through sponsorships. Hemophilia is a devastating inherited blood disorder that can still cause severe pain, crippling and even death when untreated. Most developing countries cannot afford the blood-clotting medicine needed. For less than a dollar a day, a child or adult with hemophilia can be given a future through sponsorships. Save One Life also promotes long term care and NGO capacity building by training, monitoring for progress, and rigid accountability. Save One Life was founded in 2000 by Laureen A. Kelley, President of LA Kelley Communications. For more information, visit http://www.saveonelife.net.