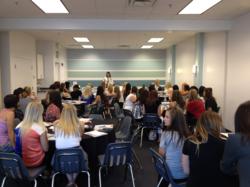 Micro Needling Training and Certification along with the recent release of our Aesthetic Dermapen has given our Practitioners additional treatments and protocols, says Chad Milton, Co-Founder of Derma Pen LLC.
Salt Lake City, Utah (PRWEB) February 05, 2013
Needlelogics Announces Micro Needling Education Partnerships with Medical Esthetic Schools to Train and Certify Dermapen Micro Needling Treatments for New and Existing Practitioners.
NeedleLogics, the official micro needling training and certification service company for Derma Pen, LLC of Salt Lake City in Utah, is proud to announce the recent partnerships with four of the most respected medical aesthetic education facilities in the United States.
The NeedleLogics for Dermapen Certification program covers the history and discovery of the micro needling or percutaneous collagen induction (PCI) phenomenon. This is also communicated as collagen induction therapy (CIT). PCI is based on over 15 years of research of dermatologists and plastic surgeons all over the world. This course will take a look into the history of skin needling and provide an overview of what the current science of micro needling is offering the aesthetic and cosmetic community today. The Dermapen treatment offers exceptional results and is suggested as a stand-alone treatment. However, it also supplements the traditional treatments offered in most aesthetic practices such as fractional laser resurfacing, chemical peels, dermal abrasion and more. This certification program will set the standard for medical and aesthetic professionals to extend their education to include micro needling and increase their opportunities and list of services to include the following:
-Skin tightening and rejuvenation, stimulation of collagen
-Improving and reducing acne scars surgical scars and burn scars
-Improving wrinkles and fine lines
-Minimizing pore size
-Improving stretch marks
TrueU of Chicago, Illinois and Boise, Idaho will be training at both locations on a regularly scheduled basis starting March 9, 2013. The National Laser Institute of Scottsdale in Arizona and Dallas, Texas are now using NeedleLogics training specifications to assist in certifying newly licensed estheticians and existing practitioners on the science and protocols of micro needling using the Dermapen. NIMA - the National Institute of Medical Aesthetics of Salt Lake City, Utah has been using NeedLogics protocols and text to train in Utah for over 6 months.
"The National Institute of Medical Aesthetics, also known as NIMA, is pleased to partner with NeedleLogics and Dermapen in training and certifying licensed professionals. Our experience with Dermapen has been stellar because the innovative technology works - our course attendees and their models are consistently bowled over by the remarkable results. We have been so impressed with Dermapen that the procedure is now part of our spa menu and our clients love it!" says Kim Winebrenner, NIMA Professional Programs Director.
Dermapen is currently interviewing additional aesthetic schools to participate in Micro Needling Education around the world.
About Dermapen:
Derma Pen, LLC is a cosmetic marketing company that trademarks, brands, and distributes cosmetic equipment. Dermapen, with its U.S. launch in 2011, is the world's most advanced skin micro-needling device. The award-winning Dermapen device and its products are sold directly to plastic surgeons, dermatologists, physicians and medical spa markets. The device has been designed and manufactured with the cumulative effort of leading technicians and experts in multiple countries.
The market segments are defined as licensed estheticians, medical spas and retreats, dermatologist offices and related cosmetic surgeon practices. According to new market research, the global market for cosmetic surgery services will reach the $40 billion mark by the year 2013, up from $31.7 billion in 2008, for a compound annual growth rate of 5.2%. In another study, the market for cosmetic surgery, facial aesthetics and medical laser devices is expected to almost double in size, exceeding $3 billion by 2017. Aesthetic laser and light therapy markets for skin resurfacing, hair removal and laser lipolysis are the fastest growing segments. In addition, market analysis provides a well-defined and unanswered need in stretch mark therapy. The new and innovative design of the Dermapen has been shown to answer the needs for the successful treatment of this problem.
For more information about Dermapen, please call (800) 981-5402 , email to Info(at)Dermapen(dot)com or visit us online at http://www.Dermapen.com.