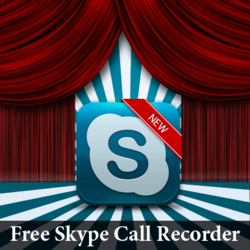 New York, NY (PRWEB) February 07, 2013
Skype is becoming more and more popular in the modern society. Its advantages over mobile phones are as clear as a day. But the wheels of progress never stop turning. Now plenty people want to record Skype video and audio conferences to fulfill their personal or business needs.
DVDVideoSoft decided to respond to the arising challenge and created the Skype video recorder that is free and easy to use. Free Video Call Recorder for Skype has a clear interface and lets users easily record and save both video and audio conversations to PC.
The application works in 3 modes. The first one, picture-in-picture, creates a real atmosphere of the video session. The second mode records video of other parties only. The third mode is intended for recording only audio from Skype conversation.
Skype calls' recording is not time limited. It is possible to record as many conversations as one needs. By clicking on the Pause button, one can skip unnecessary moments of the conversation.
This Video Call Recorder for Skype is provided as separate download and added to Free Studio after installation. Now the package contains 49 applications and fulfills even more multimedia tasks: apart from video and audio downloading, conversion, editing, the feature of video and audio recording has just appeared. The current year the company is planning to add Mac OS X support.
All DVDVideoSoft applications can be downloaded from the company's website: http://www.dvdvideosoft.com.
About DVDVideoSoft:
DVDVideoSoft Ltd is an independent developer of multimedia software programs for video and audio processing. DVDVideoSoft offers 49 multifunctional easy-to-use applications with step-by-step instructions on how to solve different multimedia tasks with the help of its programs and, if necessary, provides free comprehensive support in English, German, French, Spanish, Italian, Russian, Japanese languages. Daily rate of visitors addressing http://www.dvdvideosoft.com is constantly growing and today reaches 450,000.