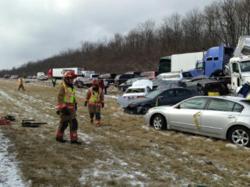 Toledo, Ohio (PRWEB) February 01, 2013
As The Charles E. Boyk Blog covered last week, the massive pileup crash on I-275 near Cincinnati, Ohio was one of the largest accidents the region has ever seen, and will result in numerous legal claims with those involved.
As 13 ABC news explained, whiteout weather conditions caused this January 21st, 103 car pileup on I-275. Twenty-seven of the 200 drivers and passengers involved were injured, and one 12-year old girl was tragically killed by a median cable while standing outside of her vehicle.
The issues remaining from this accident are not only figuring out what exactly caused the pileup, but the medical claims, legal claims, and lawsuits that will involve numerous investigators, insurers and lawyers. The accident report is expected to be at least 500 pages long, as investigators are currently spending their days putting all of the clues together.
The result of this accident will either be a few at-fault drivers of one or two larger accidents, or possibly several mini accidents within multiple drivers found at-fault. The Hancock Country sheriff explained "There could be fault on several people's part…But I don't think we'll ever know."
Attorney Chuck Boyk explained that with accidents of this nature, the legal claims can end up causing one big mess. Drivers and passengers involved will want someone to be responsible for their damages, whether at-fault drivers are found or not.
With citations still not issued for this accident, and drivers and passengers seeking damages, it is only a matter of time before the civil court is overwhelmed with individual claims.