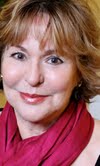 I created young people who are not undead, but very much alive, filled with passion and hungry for adventure, bursting out to roam in the night, risking everything. But then they see something they can't comprehend, and it sees them too.
(PRWEB) February 02, 2013
The seed for the latest story by best-selling novelist Jacquelyn Mitchard was discovered in a dark corner at the inn of the phantoms.
"This book began with a meditation on the meaning of darkness," Mitchard said. "I saw a quote that said, 'The landscape of the night does not belong to us. It is the inn of the phantoms.'"
That got her thinking about how people behave differently at night than they do in the light of day, and then: "I thought, what if you had to live at night? Not because you chose to, the way night workers and cops sometimes do, but what if living at night was ordained by who you are, and what you are?"
In other words, what if your protagonist is a teenage girl suffering from Xeroderma Pigmentosum, a genetic disorder rendering its victims intolerant of the ultra-violet light of daytime? What if she has young friends who also have XP, and they all live in a Midwestern town that is a research center for the disease? What if they roam the town at night exercising an enthusiasm for, say, the acrobatic high-risk discipline of Parkour? And what if one night they see something terrifying?
Well, there you have the irresistible premise for "What We Saw At Night," published this month by Soho Teen, and the first in a trilogy of Young Adult novels involving protagonist Allie Kim and her friends.
Mitchard—who is a Faculty Fellow in Southern New Hampshire University's low-residency MFA program in Fiction and Nonfiction, and also editor-in-chief of the Merit Press, a new YA imprint—counted the late Ray Bradbury among her good friends, and she says she owes some portion of this idea to a writer who might be accorded landlord status at the inn of the phantoms.
"I created young people who are not undead, but very much alive, filled with passion and hungry for adventure, bursting out to roam in the night, risking everything," Mitchard said. "But then they see something they can't comprehend, and it sees them too. This is exactly what Ray would have done. He would have taken something that is both ordinary and extraordinarily poignant—three kids with a chronic illness—and turned it on its head by adding the element of risk (Parkour), and the element of horror."
A native of Chicago, Mitchard began her career as a journalist, and was soon the author of a nationally syndicated column, "The Rest of Us: Dispatches from the Mothership." She became a full-time novelist with the electrifying success of her first book, "The Deep End of the Ocean" (Penguin, 1999). That story of a child's kidnapping and its effects won critical acclaim, was the inaugural selection of Oprah Winfrey's famed book club, sojourned thirteen weeks at the top of the New York Times' best-seller list, and was made into a feature film starring Michelle Pfeiffer and Treat Williams.
Since then Mitchard has written eight more novels for the adult market, all of them critical and commercial successes—and yet lately she finds herself writing more and more frequently for the YA market. She is the originator of the Midnight Twins YA mystery series for Razorbill/Penguin, and has written and published a number of YA and children's books.
"In YA the stories are just like the lives of these characters between twelve and twenty—epic," she said. "It's like you're living a month in a day, year in a month, a lifetime in a year. The emotional topography is thrilling, and remember that some of the stories we think of as part of the literary canon—'A Tree Grows in Brooklyn,' for example, or 'To Kill a Mockingbird'—have very, very young protagonists."
Mitchard's latest journey into this topography has drawn enthusiastic early reviews. "'What We Saw at Night' is a well-crafted, well-paced crime thriller about friendship, disability, first love, and the choices we make about how to spend our short time on this earth," said TeenReads.com.
"Allie's . . . voice [is] honest and real," added Booklist. "Fascinating looks at both Parkour and a disease so unconventional that it turns the lives of parents and families upside down." Publisher's Weekly contributed, "Atmospheric, melancholy . . . breathtaking."
"A good number of the fiction students in our program share Jackie's enthusiasm for YA as a genre," said Diane LesBecquets, director of Southern New Hampshire University's MFA program, and herself a novelist. "She arrived as our first Faculty Fellow, earning an MFA degree while teaching. Having an artist of her stature among us has been a boost for us all, but she has been particularly inspirational to our YA writers."
Mitchard is currently at work on the sequel for "What We Saw at Night." Meanwhile "Shadow Show," an anthology of stories written in honor of Ray Bradbury—which includes a story by Mitchard—has been nominated for a Bram Stoker Award.
The landlord of the inn of the phantoms would be proud.