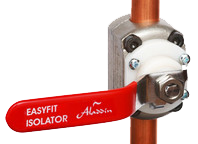 currently the fastest
Stopcock in town
(PRWEB UK) 13 February 2013
Aladdin Easyfit Isolator Valve is the most useful material ever invented. The valve is also the latest Isolator to come out on the market. When in a emergency plumbing situation and unable to turn off the mains stop tap, then the first thing required is an Emergency Plumber. On average it can take approximately two hours finding a plumber to attend a property. By calling the right company, it is highly possible that a plumber can arrive at the property within 30 minutes. Secondly it would be very useful to have a Aladdin Easyfit Isolator Valve to hand. It will most likely require an Emergency Isolator to fix the problem. Once the plumber has got into the property, it can take up to one hour locating a way to turn the water off. This can then cause even more damage. There is now a valve that can be fitted under mains water pressure, this is called the Aladdin Easyfit Isolator.
The Aladdin Easyfit Isolator is an essential item that should be an essential in all plumbers emergency stock.
As water is running through the pipes, the Easyfit Isolator when in operation, keeps the area free from water and stays dry. The Isolation Valve will impress the homeowner with its clean, quick and prompt action.
Using the supplied installation kit in addition to some simple tools, the Easyfit Isolator can be fitted in under two minutes saving you lots of time. At a cost of £30-£70 (depending on whether the tools that come with this item are also being purchased) the savings on the cost of time and damage makes it such a valuable investment.
Currently measuring at 15mm, it can be fitted to either copper or plastic pipe. The unit comes with or without the installation kit. Full instructions (including videos) which will help the occupant get the most use out of the Aladdin Easyfit Isolator are also avaliable. It also comes with a generous 10 year guarantee. The Easy Fit Valve is set to become the firms favourite emergency tool for plumbers.
Aladdin understands that quality and versatility are important. Due to the proven quality of the 15mm, Aladdin Easyfit Isolator are now launching a 22mm version. This unit will also include the full Installation kit, instructions and the reassurance of a 10 year guarantee. Aladdin is committed to providing high quality, reliable products which is cost effective and attractive to all.
Martin Smith explains that the market as long awaited such a product like the Aladdin Easyfit Isolator. It stops the panic from customers and the plumbers. It provides the emergency plumber with the control over the situation. It removes the need to cut the pipe 'live' meaning you no longer have to deal with the resulting water loss or further damage. Martin continues to explain that a device such as the Easyfit Isolator truly is the product for the professionals and any job that it is used on will leave the customer very happy.
For more information please visit http://www.emergencyplumber.uk.com/plumbing-news/easyfit-isolator/