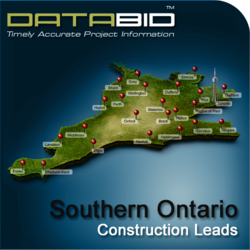 General Contractors, Subcontractors, and Material Suppliers doing business in Southern Ontario are invited to a trial of DataBid.com
Toronto, Ontario (PRWEB) February 05, 2013
DataBid.com, provider of timely accurate project information and commercial construction leads in Southern Ontario, is currently reporting on the Toronto Chris Tonks Arena State Of Good Repair Tender.
As of 01/29/2013 Bids Are Due: February 14, 2013 12:00 PM
Location: 2801 Eglinton Avenue West, Toronto ON
Click Here To See Complete Details On This Project
The scope of work generally shall consist of, but is not limited to, the following:
1) No-barrier upgrades including a new single-use unisex washroom; new no-barrier change room (with washroom and shower); new no-barrier viewing platform.
2) New no-barrier ramp adjacent to the main front entrance vestibule area.
3) Extensive change room renovations, washroom and shower upgrades.
4) Interior painting.
5) Minor flooring and ceiling tile replacements.
6) New doors and frames.
7) Re-skinning of existing dasher board frames, including conversion of one person-gate to a double-gate to accommodate sledge hockey use.
8) Replacement of existing brine chiller.
9) Installation of one new compressor (the compressor is being stored at another City facility).
10) Replacement of exhaust fans.
11) Replacement of two heating furnaces.
12) Replacement of bleacher heating.
13) New pump and backflow preventer for the incoming water service.
14) New electrical service including reorganization of the electrical room.
15) New fire alarm system.
16) Replacement of existing retaining wall.
17) Exterior drainage improvements (including new maintenance holes, catchbasins, curbs and roadway).
18) Exterior sub-surface drainage including sports field and storm line replacement, and all associated landscape works and restoration.
19) Exterior tree planting., Read More.
Divisions:
Division 02 - Existing Conditions
Division 08 - Openings, Doors and Frames
Division 09 - Finishes, Ceilings, Flooring, Painting and Coating, Painting
Division 21 - Fire Suppression
Division 23 - HVAC, Furnaces, Special Exhaust Systems
Division 26 - Electrical Electrical
Division 32 - Exterior Improvements, Bases, Ballasts, and Paving, Planting, Curbs, Gutters, Sidewalks, and Driveways, Retaining Walls
Division 33 - Utilities Utilities, Storm Drainage Utilities
President Jim Lamelza: "General Contractors, Subcontractors, and Material Suppliers doing business in Southern Ontario are invited to a free trial of DataBid.com today. Our clients enjoy the quality of data as well as the helpful access to our editorial team and customer service specialists."
Subscribe during the month of February, 2013 and earn one complimentary month of access to DataBid.com. Use the following promo code: #FEBCOM. Inquiries can be made by calling: 1-888-929-3282 Mon-Fri 9AM-5PM Est.
More About DataBid:
DataBid.com is a new data-centric construction lead service that focuses heavily on providing unmatched customer service backed up by some of the highest quality information around. DataBid is a new company owned and managed by a dream-team of commercial construction reporting professionals who have combined industry experience of more than 50 years. Local commercial construction companies' access DataBid.com construction leads to gain market share and to reduce the time required to find new projects and opportunities.
With more than 50 years of combined experience in commercial construction lead reporting; general contractors, subcontractors and material suppliers have access to the following features and benefits with DataBid.com:
*Complete Bidders Lists
*Access to More In Design Opportunities
*Advanced Project Searching
*Immediate Access to Our Editorial Team
*Complete Project Descriptions
*Advanced Project Tracker
*Most Bid Results Reported Within 24 Hours of Bid Opening
*Available Friendly Effective Customer Service
*Searchable Construction Company Directory
*Complete Company & Contact Information
*Historical Company Bidding with Past and Current Project Results
Some Industries Published In DataBid.com are as follows: Contractor leads, General Requirements Tenders, Concrete Bids, Masonry Tenders, Millwork Leads, Commercial Roofing Bids, Door and Window Replacement Leads, Paint & Drywall Bids, Equipment Furnishings Bids, New Conveying Equipment, Fire Suppression Bids, Plumbing Bids, HVAC Bids, Electrical Tenders, Communications & Phone Systems, Electronic Safety & Security Bids, Earthwork Quotes, Landscaping Contracts, Utilities Quotes, General Roadwork Tenders, Waterway & Marine Construction Bids, Material Processing & Handling Equipment Quotes, Industrial Construction Tenders, Cooling & Drying Equipment Bids, Process Gas & Liquid Handling Bids, Purification & Storage Equipment Tenders, Pollution & Waste Control Equipment Quotes, Water & Wastewater Equipment Leads, Electrical Power Generation Tenders.
Areas Of Coverage Include the Following Counties:Brant, Bruce, Chatham-Kent, Dufferin, Durham, Elgin, Essex, Grey, Haldimand, Halton, Hamilton, Huron, Lambton, Middlesex, Niagara, Norfolk, Oxford, Region of Peel, Perth, Simcoe, Toronto, Waterloo, Wellington, York.
DataBid is a source for: bid construction projects, bid on construction jobs, bid on construction projects, bidding for construction projects, bidding on construction projects, commercial construction, commercial construction bids, commercial construction projects, commercial construction tenders, construction bid, construction bidding, construction bidding process, construction bids, construction bids Ontario, construction bids Toronto, construction contracts, construction jobs for bid, construction jobs to bid, construction jobs to bid on, construction leads, construction project leads, construction projects, construction projects for bid, construction tender, construction tendering, construction tenders, government construction bids, how to bid construction jobs, how to bid on construction projects.
*(certain rules and restrictions apply, please see your DataBid.com representative for additional details.)