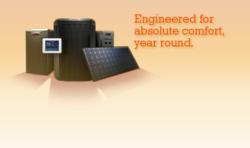 We are very pleased with the service we recieved from Twin Air. They are extremely professional and customer service oriented. Plus, it is obvious they are very knowledgeable. A great company to do business with.
Washington DC (PRWEB) February 03, 2013
Twin Air LLC was awarded the "Best of the Best" designation for excellence by Follow Media Consulting, Inc. in the category of Fairfax Heating and Manassas Air Conditioning. This award signifies the continued commitment and dedication of the areas best in heating and air conditioning service installations and products.
Twin Air LLC is proud to offer a wide range of services, performed by professionally-trained and certified technicians and designed to meet every customers' home comfort needs exactly. As the local Lennox Premier dealer, they are proud to offer the finest heating, cooling and indoor air quality products, with prompt and professional customer service. Regardless of the season or the temperature outside, Twin Air can make a home feel perfectly comfortable.
Twin Air LLC is dedicated to quality standards that are unmatched in their line of industry. Twin Air employs only the best, highly trained, well educated installation and service technicians. Twin Air is committed to doing its part in protecting the environment by installing the most efficient systems available. The staff at Twin Air believes that home comfort only comes second to the health of its occupants. Twin Air can vastly improve the air quality of a home through the installation of select Lennox healthy home accessories like UV air purifiers, humidifiers, and air cleaners. Twin Air's dedication to quality, integrity, innovation, and efficiency sets them apart from the rest. It is because of this commitment to high quality and integrity that they offer one-year parts and labor on all repairs and installations and in some cases even longer. They are able to offer these excellent warranty because Twin Air uses only the best quality parts and equipment available.
Twin Air LLC offers a wide varied of heating and cooling Lennox products, from furnaces to air conditioners and indoor air quality systems to garage heaters. Twin Air is also pleased to offer Web Only specials for customers visiting their site at http://www.lennoxdealer.com/twinairllc/. You can also reach them at this number (703) 754 - 1062.
About Follow Media Consulting, Inc.
Named one of the best SEO companies by Jonas Marketing, Follow Media Consulting, Inc. is a rapidly growing worldwide firm of SEO, Social Media, and Mobile Marketing Professionals. Follow Media Consulting, Inc. headquarters is located in Richmond, VA. However, our professional team is networked across the world, with regional offices across the United States, in the United Kingdom, Canada, Australia, France, South Africa, the Philippines, and India.