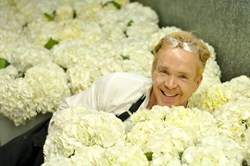 Minneapolis, MN (PRWEB) February 06, 2013
Valentine's Day can be full of cliche's but celebrity floral designer Michael Gaffney of the Minneapolis School of Flower Design is here to tell the world it doesn't have to be. He recently appeared on Hallmark Channel's Home and Family with Christina Ferrare talking about alternatives to the usual dozen red roses. Michael suggests a beautiful mix of garden flowers such as hydrangea, roses, berries and stock as an elegant way to say "I love you." For those men who are married or soon to be, a collection of roses arranged in a European style will give the look of a hand tied bridal bouquet and bring back all the romance of the big day. If you just can't break away from the red roses, go for two or three dozen instead of one. It is sure to make a significant impact.
Michael Gaffney is a leading Floral Designer in the world of Interior Design as well as the Television and Motion Picture industries. Mr Gaffney has been seen on many TV shows such as the Today Show and his floral design work has been featured in several films. He is the founder of the Flower Design Schools of America with locations across the country and is also the author of "Design Star, Lessons From the New York School of Flower Design." He considers it his lifelong goal to get a bouquet of flowers in the hands of every woman.
For more information on Classes with Michael Gaffney and his team of top designers, call 1-877-322-5666 or send an email to [email protected]