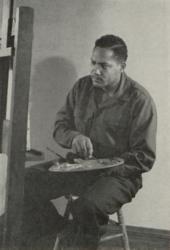 Wilmington, Delaware (PRWEB) February 04, 2013
Hagley Museum and Library celebrates Black History Month by making its film, "Edward Loper: African American Painter," available to view online and to download without restrictions for educational and non-commercial purposes at http://www.hagley.org/library/exhibits/ed_loper/watch.html. This film is based on oral history interviews with the late Edward Loper, Sr.
In "Edward Loper: African American Painter," Mr. Loper reflects on growing up in Delaware, his education at Howard High School, early influences on his painting, and his painting philosophy. He is painting through much of the interview, filmed on a sunny, crisp fall day in Wilmington's Brandywine Park. The footage is interspersed with stills of Mr. Loper's paintings, historic Delaware scenes (such as the Allied Kid leather factory where Loper worked as a young man) and famous national figures mentioned in the interview, such as Horace Pippin, Alain Locke, and Aaron Douglas.
"Edward Loper: African American Painter" is a short film created from a 1998 interview with Mr. Loper filmed as part of research for the film, A Separate Place: The Schools P.S. du Pont Built (2003).
This film was made possible with funding provided by the Delaware Heritage Commission, Delaware Humanities Forum, Hagley Museum and Library, and the Longwood Foundation.
About Edward Loper, Sr.
Edward Loper, Sr., who passed away on October 11, 2011, was born on the east side of Wilmington on April 7, 1916, and lived in Delaware for his entire life. From 1936 to 1941, Loper worked for the Works Progress Administration (WPA) Art Project, a New Deal program designed to provide work for unemployed artists. He then took a job at the Allied Kid leather tanning factory in Wilmington and continued painting after working hours. In 1947, he became a full-time art instructor. Loper taught at the Delaware Art Museum, Lincoln University, and Wilmington's Jewish Community Center, in addition to other places. His paintings are found in many of the nation's most prestigious art collections including the Philadelphia Museum of Art, the Corcoran Gallery in Washington, D.C., Howard University, Pennsylvania Academy of Fine Arts, and Clark-Atlanta University Collection of African-American Art. Locally, Loper's paintings are found in the collections of the Delaware Art Museum, the Biggs Museum, the University of Delaware's Paul R. Jones Collection of African-American Art, as well as private collections.
About Hagley Museum and Library
Hagley Museum and Library collects, preserves, and interprets the unfolding history of American enterprise. Hagley is located on Route 141 in Wilmington, Delaware. For more information, call (302) 658-2400 weekdays or visit http://www.hagley.org.
###