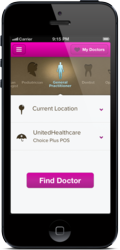 BetterDoctor doctor search app is now available on the iPhone
San Francisco, CA (PRWEB) February 01, 2013
BetterDoctor, the rapidly growing doctor search service, announced today its new iPhone app. The free BetterDoctor app helps consumers quickly find a quality doctor, dentist or optometrist based on their insurance plan and location. The BetterDoctor app includes 600,000 pre-screened doctors nationwide, and is now available on the App Store.
The BetterDoctor app for iPhone enables users to:

Find a high quality doctor, dentist or optometrist in any US city
Choose from the 100 most popular health insurance plans
View doctor profiles with consumer reviews, bios, photos and more
Nationwide coverage of 600,000 validated doctors
Call the doctor's office right from the app
Bookmark favorite doctors
"BetterDoctor makes doctor search simple," says Ari Tulla, CEO and Co-Founder of BetterDoctor. "It used to take hours to do the research before choosing a good doctor who accepts your insurance. Now it takes a couple of minutes. We have already helped hundreds of thousands of people find the right doctor, and the new iPhone app makes it even easier."
BetterDoctor data scientists have spent years building a proprietary doctor directory that combines information from hundreds of data sources. The team has built sophisticated big-data and machine learning algorithms to turn over a billion data points into the BetterDoctor verification system, where each BetterDoctor is validated against tight quality criteria including:

Highly rated by patients
Active medical license
Passed malpractice and discipline record screening
Confirmed experience and education
Verified insurance plans
About BetterDoctor
BetterDoctor is a disruptive doctor search service that helps consumers easily find a quality doctor who accepts their insurance plan. BetterDoctor's mission is to simplify healthcare and make doctor search more transparent. BetterDoctor launched in September 2012 and is located in San Francisco. The company is funded by angel investors, doctors and the founding team.
For more information and to find a doctor please visit betterdoctor.com or download the BetterDoctor app for iPhone.