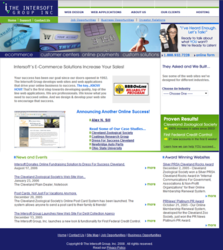 We are experts. We know what you need to succeed online. And we design & develop your web site to encourage that success. Our 99.5% customer satisfaction rate speaks volumes about our service & support!
Cleveland, Ohio (PRWEB) February 07, 2013
The Intersoft Group Inc. was awarded the "Best of the Best" designation for excellence by Follow Media Consulting, Inc. in the category of Web Design Cleveland. This award signifies the continued commitment and dedication of the areas best in website design services.
The Intersoft Group, Inc. is headquartered in Richmond Hts, Ohio and was founded in 1992. For over 12 years, Intersoft has been creating and perfecting components and applications that harness the full power of the Internet. And since they are experts in software and database design, they have the knowledge to make your Web Application a reliable and successful Internet business tool.
The Intersoft Group prides itself on developing professional web sites that meet the ever-changing standards of the Internet. A web site is a window into a business and in many instances will be the first impression made on prospective clients.
By reputation, The Intersoft Group is committed to listening to and understanding business goals, policies and procedures. Learning a client's business helps them to translate thoughts into a custom design of both professional imagery and web technology. The successful merging of these two elements allows them to deliver an aesthetically pleasing web site as well as a solid e-business application.
The Intersoft Group have been designing websites for several institutions in the state. The designed websites in a wide variety of categories such as Education / Training, Entertainment, Financial Services, Information Technology, Legal, Manufacturing, Medical Profession, Non-Profits, Real Estate, Research, Retail and Wholesale. Visit their website at http://www.intersoftgroup.com/ to know more about their web design services.
About Follow Media Consulting, Inc.
Named one of the best SEO companies by Jonas Marketing, Follow Media Consulting, Inc. is a rapidly growing worldwide firm of SEO, Social Media, and Mobile Marketing Professionals. Follow Media Consulting, Inc. headquarters is located in Richmond, VA. However, our professional team is networked across the world, with regional offices across the United States, in the United Kingdom, Canada, Australia, France, South Africa, the Philippines, and India.