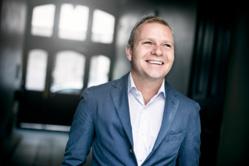 The change of leadership is a result of Mediaplanet once again entering the phase of entrepreneurship.
Stockholm, Sweden (PRWEB) February 05, 2013
After living abroad for a number of years, Richard Båge, former CEO of Mediaplanet has returned to Stockholm and the company he founded together with his good friend and business partner Rustan Panday. Richard Julin has served as CEO in the interim.
"When I resigned as CEO six years ago it was because the entrepreneurial business phase was completed and we found ourselves in a clear expansion phase with a focus on process and development," says Båge. "That was the reason we recruited Richard Julin. It is mainly due to Richard's great performance that we have been able to grow as much as we have during the years while he was CEO. Despite recessions and tough times for the media business, Richard Julin led Mediaplanet with a clear vision and made it the global and sound company it is today."
The change of leadership is a result of Mediaplanet once again entering the phase of entrepreneurship. "Business development is our top priority, and the company is getting ready for the next step. We are running at full speed and there are great changes going on. Mediaplanet is a well run machine that I, together with my great colleagues, will take to even further heights," says Båge, without revealing any details.
"During my two years as COO and four years as CEO, I have been part of an almost unreal journey," says Julin. "From 10 European offices we have grown to 22 offices across Europe, North America and Australia. From many perspectives, Mediaplanet is a great company. It has been an honor to work with so many strategically competent people, and we have grown to become a business school and a platform for young talent with their eyes set on a future within media and communication. I will, of course, continue to follow the progress and development of Mediaplanet with great interest. In addition to that, I will remain as a shareholder," comments Julin.
ABOUT MEDIAPLANET
Mediaplanet was founded in Stockholm in 2002 by Richard Båge and Rustan Panday, and is the world leader in content marketing in editorial environments. Mediaplanet produces about 1,000 papers per year in 14 languages through offices in 22 cities, 16 countries and three continents around the world. Mediaplanet partners with industry experts, leading journalists and celebrities to create inspiring, educational editorial, presented in an easy-to-read, engaging format. The reports are financed by relevant advertisers and distributed within the world's leading newspapers and websites.
Since 2009, the concept has been available online through the launch of Online TV, a digital platform that allows companies to advertise in short, educational videos produced with credible experts and distributed through high quality websites with high daily reach. In 2012, Mediaplanet launched a digital version of its product in the states.