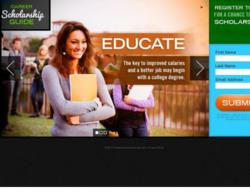 Unlike a loan that is borrowed money, scholarships are considered a reward that students are not required to pay back.
Washington DC (PRWEB) February 02, 2013
Career Scholarship Guide, an online based help center which originally helps students increase their odds at getting their scholarship application approved, was given recognition by Follow Media Consulting Inc., for its efforts on achieving their mission in helping students nationwide on their scholarship applications on college degrees.
Career Scholarship Guide's website offers guides and ideas for scholarship applicants which can be found on line. It is easy to access and very informative which also answers a lot of questions regarding scholarship applications, tips on where to look for available scholarships nationwide and gives informative facts which on which type of scholarship is suitable for an applicant.
Looking for college scholarships can be a confusing process. The immense number of scholarships coupled with the lack of comprehensive resources and information available to students makes it difficult to sift through the clutter, causing many students to miss out on a chance to earn money to put towards their college education. Here at CareerScholarshipGuide, it is their mission to help students of all financial situations, backgrounds and talents explore their scholarship options. There are hundreds of thousands of scholarships available nationwide, and a huge number of these scholarships are awarded to students with less than stellar grades, adult students returning to school and students with unique circumstances and talents. Students won't qualify for every scholarship, but with the right information, enough perseverance and a little bit of luck, they can dramatically increase their chances of winning a significant amount of money to put towards their education.
About Follow Media Consulting, Inc.
Named one of the best SEO companies by Jonas Marketing, Follow Media Consulting, Inc. is a rapidly growing worldwide firm of SEO, Social Media, and Mobile Marketing Professionals. Follow Media Consulting, Inc. headquarters is located in Richmond, VA. However, our professional team is networked across the world, with regional offices across the United States, in the United Kingdom, Canada, Australia, France, South Africa, the Philippines, and India.