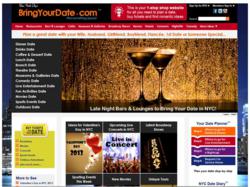 "BringYourDate.com helped me create the perfect anniversary date with my wife. I found the ideal romantic restaurant, bought tickets for a show, and even ordered flowers. The website did the work and I got the credit!"
New York, NY (PRWEB) February 13, 2013
For those who find it hard to plan dates and are looking for fun things to do, check out a website called BringYourDate.com - New York's Entertainment Guide for Places to Go and Things to Do on a Date!
BringYourDate.com promotes venues and activities in NYC that are ideal for every type of date outing - with a unique twist. The BringYourDate.com team carefully hand-picks New York's restaurants, lounges, museums, theatre, live entertainment and assigns a Romance Rating to each venue and activity. In addition to a Romance Rating, every listing has a specific date type recommendation.
BringYourDate.com wants to take the guess work out of planning your next date. BringYourDate.com's Chief Operating Officer Bernadette says, "With our Romance Rating there is no more excuse for picking the wrong venue or activity! We recommend the best places to Bring Your Date with ideas for everyone and every occasion."
BringYourDate.com features include a handy Date Planner which helps users organize their dates from start to finish. They can buy tickets for shows, concerts, sport events and even reserve a car service without ever having to leave the BringYourDate.com site. If that's not enough, users can send date ideas to someone special in an e-mail. This should be a great hit with those who have loved ones that need an extra nudge in planning their next date.
Additional fun features to help users plan future dates include an Event Diary and a Date Wishlist. Visit the website and it becomes apparent - BringYourDate.com is intent on being the one-stop website for New Yorkers and couples visiting NYC.
Whether the next date occasion is Valentine's Day, a birthday, wedding anniversary, or a second date, there are no more excuses - now BringYourDate.com is here to help plan the perfect date.
BringYourDate.com's recommendations for celebrating Valentine's Day together in NYC 2013:

Make a reservation at a New York romantic restaurant
Enjoy drinks at some of New York's chic lounges and rooftops
Go see a Broadway show
A romantic dinner cruise on the Hudson River
Enjoy a night of laughter at one of New York's comedy shows
See a live concert together
Go to a sports game
Visit one of New York's numerous museums or galleries
Go on a unique daytime or night time tour of NYC
Enjoy an evening at the orchestra
Order flowers and chocolates
Check out more NYC date ideas and purchase tickets for all shows at BringYourDate.com.