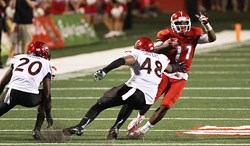 He has quick feet and is a strong runnerHis ability to impact the special teams and play wide receiver is essential for his success in the NFL.
Rolling Hills Estate, CA (PRWEB) February 21, 2013
Sports Agent Jill McBride Baxter has signed former Fresno State wide receiver Rashad Evans to a Representation Agreement according to Jill McBride Baxter.
McBride Baxter, who represents NFL players such as Jets punter Robert Malone and Dolphins wide receiver Marlon Moore, and who also recently signed Internet kicking sensation Håvard Rugland, says she has had her eye on Evan for many years and he has never stopped impressing her.
"I have watched Rashad Evans play for many years," says McBride Baxter. "He has quick feet and is a strong runner. When he catches punts he is fearless; he always looks for a spot to make his move and earn some yards. His ability to impact the special teams and play wide receiver is essential for his success in the NFL."
Go here to view Rashad Evans' profile page on the Jill McBride Baxter website.
Evans returns the high praise back to McBride Baxter while explaining why he signed with her.
"I signed with Jill McBride Baxter for many different reasons," says Evans. "I spoke to a few of her current clients and they had nothing but great things to say about her. The first time I spoke to her I felt like we hit it off very well. However, the biggest reason I signed with her is because I can tell she genuinely cares about my well-being."
Evans had very strong numbers coming out of college along with very strong praise from his former coaches.
In 2012 as a senior, Evans ranked number nine in Fresno State school history with 135 catches. He played in eight games and drew five starts and finished his regular season with 31 catches for 294 and five touchdowns. Evans began his season with 10 catches for 100 yards and three touchdowns in a win over San Diego State. His three TD receptions were the most by a Bulldog in a single-game in 11 years. He also returned a punt 78 yards for a touchdown in a win over Wyoming on Oct. 20 and averaged 9.2 yards on 16 punt returns.
Keith Williams, former wide receiver coach at Fresno State, who is currently a wide receiver coach at Tulane University, has only praise for Evans abilities.
"Evans has great acceleration and quickness," says Williams. "He is elusive and is strong runner, especially for his size. He has quick feet and great vision. He has a very natural feel for fielding punts and he rarely fair catches. He catches the ball well with his hands."
Pete Germano, who is an Assistant Coach for Special Teams/Defensive Line at Fresno State, echoes Williams's praise of Evans.
"Rashad Evans is great threat as a punt returner," says Germano. "Every time he touches the ball he is a threat of taking it to the house."
According to McBride Baxter, Rashad earned his degree in the fall in Business Administration. This spring he will take classes in Finance.
"Rashad will continue to work out with his excellent weight and speed coach at Fresno State," says McBride Baxter. "After years of representing players and lots of research I have found that players who trust their current staff of coaches and weight staff see the most improvement. The coaches who know you the best can help you improve to get ready for your pro day and playing football at the professional level."
Go here for more about Rashad Evans.
Go here for more about Jill McBride Baxter.