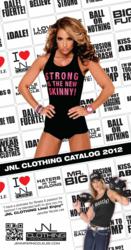 Celebrity Jennifer Nicole Lee Confirms Her Two Biggest Most Successful Products in All GRAMMY® Celebrity Gift Bags, Including www.JNLClothing.com & www.JNLFusion.com.
Los Angeles, CA (PRWEB) February 02, 2013
One of the brightest stars of the fitness world, international super fitness model, actress, author and a business mogul, Jennifer Nicole Lee will be adding some amazing items from her JNL Worldwide Inc. empire to the already jaw-dropping GRAMMY gift bags.
This non-stop, most sought-after fitness expert and motivator has just finished hosting her 3rd Annual JNL World Conference on South Beach, Miami where she brought together the movers and the shakers of the fitness, wellness and beauty industries to network, learn from each other and also get certified in JNL Fusion training method, which is predicted to be the hottest fitness trend of 2013.
Move over world, as Jennifer Nicole Lee conditions you for nothing but greatness. As the conference attendees from all over the globe go back to their home destinations this week, social networks are blowing up with sincere tears of joy, pride and newly-received inspiration to conquer the world by staying true to their authentic selves and following their dreams and aspirations.
Speaking of inspiration - "Strong Is the New Skinny", "Kiss My Abs", these among other empowering messages cleverly crafted by Jennifer Nicole Lee herself grace her JNL clothing items which will be added to this year's GRAMMY Gift Bags along with a set of JNL Fusion workout DVDs, the hottest at home and gym workout method of 2013. Here is what Jennifer Nicole Lee says about Fusion, "JNL Fusion workout method is superior for many reasons. It's effective, efficient and it saves money and time. It can be done anywhere, from your home, your kitchen, in your living room, in your backyard and even done in a group setting at all gyms."
If you are not one of the lucky artists at the 55th Annual GRAMMYs, but still want to get your hands on the hottest workout DVDs, checkout http://www.JNLFusion.com and see for yourself why this unique fast blasting and 6-pack carving workout method is in such high demand.
Want a peek at what super sexy JNL clothing item your favorite GRAMMY artist might be sporting at their next private training session, check out http://www.jnlclothing.com.
Established in 1957, The Recording Academy is an organization of musicians, songwriters, producers, engineers and recording professionals that is dedicated to improving the cultural condition and quality of life for music and its makers. Internationally known for the GRAMMY Awards — the preeminent peer-recognized award for musical excellence and the most credible brand in music — The Recording Academy is responsible for groundbreaking professional development, cultural enrichment, advocacy, education and human services programs. The Academy continues to focus on its mission of recognizing musical excellence, advocating for the well-being of music makers and ensuring music remains an indelible part of our culture. For more information about The Academy, please visit http://www.grammy.com. For breaking news and exclusive content, follow @TheGRAMMYs on Twitter, like "The GRAMMYs" on Facebook, and join The GRAMMYs' social communities on Foursquare, GetGlue, Google +, Instagram, Pinterest, Tumblr, and YouTube.