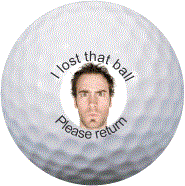 'The Promo GolfBall website was easy to navigate and order from. Once ordered the shipment came within days. Was a great Christmas gift for my son to give his dad - the man who has everthing.'
- Angie
(PRWEB) February 07, 2013
Nowadays, very few golf ball companies dominate the golf ball market, which means that a large number of the golfing population is playing with the same golf balls. Consequently, a trend that has been emerging amongst golfers is finding new and creative ways to identify ones golf ball. PromoGolfBall offers a new innovative way to identify and personalize golf balls with its photo golf balls.
In 2010, PromoGolfBall purchased a new printer which enables the printing of pictures on the golf balls. Customers can now print a picture of themselves or others on the golf balls instead of text, which personalizes the product even more. Moreover, customers have the option of printing text around the picture. In addition, the printing can be done on all leading brands of golf balls such as Titleist, Callaway, Bridgestone, TaylorMade, Nike, etc, as well as on blank golf balls. Personalized photo golf balls can be purchased for any occasion whether it be personal use, wedding favours, birthday or Christmas gifts, or even just as a joke. Over the past 2 years, these personalized photo golf balls have become more and more popular amongst customers.
Initially, PromoGolfBall required each photo golf ball order to be at least 3 dozens. In the recent years, there has been a growing demand from customers for orders of 1 dozen, especially those who wish to give the golf balls as gifts. PromoGolfBall has since then changed its policy from a 3 dozen minimum to a 1 dozen minimum.
With thousands of golf balls in stock and ready to be imprinted, fast turnaround is also available for last-minute orders. In addition, customers have the chance to add the rush order option to their purchase, which guarantees that the order will be processed and ready to ship within 2 business days. Another aspect that contributes to this quick turnaround time is the fact that all the printing is done within PromoGolfBall's own factory. It is not contracted to a third party nor is it done by golf ball manufacturers. This enables PromoGolfBall the ability to have total control on the entire production process.
PromoGolfBall prides itself in providing quality products paired with outstanding customer service to each and every client. The large amount of positive reviews posted by satisfied customers on PromoGolfBall's website proves that the company is not only meeting customers' expectations, but also surpassing them.