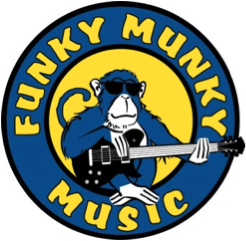 Funky Munky Music is one of the top places for musicians in the K.C. area!
Springfield, MO (PRWEB) February 06, 2013
Springfield Music has announced its acquisition of neighboring Kansas' Funky Munky Music. The deal was made official in the last quarter of 2012, and changes have already been made.
According to Springfield Music Vice President Donovan Bankhead, the decision to purchase Funky Munky Music was fueled by instrument manufacturers who have wanted Springfield Music's management team to break into the Kansas City area for some time. The opportunity to do so presented itself and was simply too good to pass up.
"Funky Munky Music is one of the top places for musicians in the K.C. area," Bankhead said. "They were known for hosting fun events and activities. It was the perfect deal for us because of the great retail experience, lessons, rentals and repairs that we have become known for in Springfield and at Ernie Williamson Music in Joplin. We love to help create new musicians and to work with existing musicians."
In the few months that Bankhead has overseen Funky Munky Music's operations, "tons of new inventory has been added," and renovations have already been made to the interior. Additionally, Funky Munky Music's calendar is being filled with more workshops, clinics and events than ever before as its new ownership invests in the lesson program to make it the best in Kansas City.
"For the first eight years of its life, beginning in 2004, Funky Munky Music brought in teachers from other area stores that closed," Bankhead said. "(Previous owners) Pat (Redd) and Jon (Kluiter) made this place a venue and a destination of sorts. They were ready to move on to other ventures, and we wish them well. We will work to maintain their legacy here in the Kansas City area and enhance Funky Munky Music as much as we can to provide an unparalleled experience for our clients and our team who will be interacting with them on a daily basis."
At the moment, Funky Munky Music's website is receiving an overhaul, according to Bankhead. He advises that anyone interested in events, activities or other inquiries should either email MunkyMail(at)FunkyMunkyMusic(dot)com or call 913-268-5555.
Springfield Music, named a National Association of Music Merchants Top 100 Dealer for 2012, offers a wide selection of instruments and accessories from several popular manufacturers. Whether it's service, sales or lessons, we live for music.