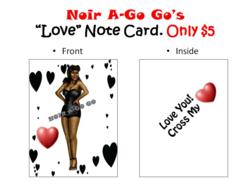 Pinup girls are all about a good flirt!
BROOKLYN, NY (PRWEB) February 05, 2013
Noir A-Go Go, an online store which offers Black pinup girl-themed compacts, magnets, tote bags, and more, now wants to be a 1-stop shop for Valentine's Day greeting cards and assorted gifts.
"With or without a date or someone special in your life, Valentine's Day can still be fun, especially with our greeting cards and magnets," says Owner /Designer K.C. Washington. "Pinup girls are all about a good old fashion flirt and spreading joy. Why not give a 'Hot Chocolate Served Daily' magnet to your best friend or our 'Love You Cross My Heart' card to a co-worker," continued Washington.
Although Valentine's Day is close to Washington's heart she also believes that her two-year-old company and its Black pinup girl-themed tee shirts and postcards have a special place in the world every day of the week.
"The American pinup girl genre, beginning with WWII sweetheart Betty Grable and continuing on down the line to the infamous Betty Page, is a revered piece of American nostalgia. From the 1940s until the present, girls from California to New York don pencil skirts, tight polka dot sweaters, fishnet stockings, stacked heels, and "victory roll" their hair, in order to achieve "the look." And although companies as diverse as clothing, house wares, and novelty gifts, have capitalized on the desire of women to be sexy and sweet, one rarely sees a black pinup."
Noir A-Go Go is determined to change that. Conceived as a love letter to Black women and men, the company uses Black pinups in classic poses with culturally specific sayings like "Trust Me Sugar, I've Overcome!" and "Fear Is So 1950s" to explore the virtually unknown, certainly unexplored, world of the glamorous black woman circa 1950.
Profiled in the online Black women's lifestyle magazine Madame Noire, a hit with the Harlem Book Fair, the Brooklyn Book Fair, the 6th Annual NYC Black Doll Show, the Afro Punk Festival, and gift stores around NYC, Noir A-Go Go puts the black in the magic that is 50s Americana.
About Owner and Designer K.C. Washington
K.C. launched Noir A-Go Go in January 2011, with the idea that something was missing within the American pinup girl genre, namely women of color. So she decided to put what she calls a sepia spin on the beloved genre and Noir A-Go Go was born. Convinced that the world is more than familiar with the image of African Americans fighting for their rights during the Civil Rights era, she wants to show another image from that time---one of glamour and wit. A Mellon Fellow and a novelist with a background in journalism and literary and historical fiction, K.C. has raised the curtain on a world of beautiful, empowered, stylish women (and a few men) and placed them on everything from magnets and tee shirts to tote bags and greeting cards, with more to come as she expands.