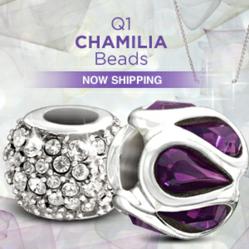 The new Chamilia collections are available now, in store or online
New York, NY (PRWEB) February 01, 2013
A Silver Breeze launches the new Chamilia bead collections of the first quarter of 2013. Among the new beads in the collection is a set of Disney beads featuring lovable characters like Mickey and Minnie Mouse, Snow White, and Cinderella. The sterling silver beads are detailed with Swarovski crystals and cubic zirconia for a refined finish. The new 2013 collections also consist of sterling silver necklace chains and leather snap bracelets, to extend current ensembles or to start new ones.
Also featured in the new bead collections are the Valentine's Day beads. This year's beads consist of heart shaped lockets, teardrop crystals, and sentimental messages. The beads are accented with Murano glass, Swaroski crystals and cubic zirconia, to add shimmering color and flawless design.
A Silver Breeze is proud to offer its customers a Chamilia Valentine's Day bracelet and bead set. This three-piece set comes already prepared with a sterling silver snap bracelet, one pink heart bead, and two heart locks to hold beads in place. This set retails for $149USD, which saves clients over 15% if items are bought separately.
The new collections are available now, in store or online at: http://www.asilverbreeze.com.
Free last-minute shipping is available for Valentine's Day on orders placed before February 7, 2013 (before 9:00 a.m.) for ground shipping, and before February 12, 2013 (before 9:00 a.m.) for next-day shipping (free on all orders over $149USD).
About A Silver Breeze
A Silver Breeze was founded with a philosophy in mind: give women the freedom to be themselves and embrace a sense of style that's unique to each woman. A Silver Breeze offers women quality sterling silver jewelry that is interchangeable, like the Kameleon, Chamilia, GemDrop, Bijoulee, and Spinning Jewelry collections.
Stores are located at the Aviation Mall in Queensbury, New York, at the Wilton Mall in Saratoga, New York, and online at: http://www.asilverbreeze.com. Please visit the online store to see all the available collections. A Silver Breeze ensures every customer's shopping experience will be an unforgettable one.