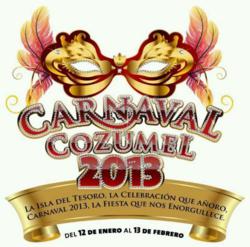 Don't miss this Cozumel island tradition still going strong after over 135 years!
Cozumel, Quintana Roo Mexico (PRWEB) February 01, 2013
The King and Queen winners for Cozumel Carnaval 2013 were officially announced recently and presented to the public as Pedro Koyoc Pérez and Rosmery Shultz Caamal. For the past 6 weeks, the candidates campaigned in the streets of Cozumel to earn votes from the community. The King and Queen winners will crowned February 6th and become royalty for a week to preside over the island's annual Carnaval celebration to be held February 6 - 12, 2013.
Cozumel Carnaval 2013 King and Queen winners were Pedro Koyoc Pérez and Rosmery Shultz Caamal.
Cozumel Carnaval Junior King and Queen winners were Mauro Reinoso and Isabel Zetina Vivas.
The Children's Carnaval King and Queen candidates are Axel Daniel Baeza Villanueva, Niza Teresita Vivas Chacón and Alondra de la Rocha Cajun and the winners will be determined this coming weekend.
This island tradition of Cozumel Carnaval has been passed down through many generations and its origins date back to the mid 1800's. As a result, many of these King and Queen competitors have been involved since childhood and already have years of experience competing and performing in Cozumel Carnaval each year.
With Carnaval falling in the midst of peak tourism season, travelers should make air and lodging plans as early as possible to attend. Cozumel's Carnaval is a celebration similar to Mardi Gras of New Orleans but with a Caribbean island flavor!
For a complete Calendar of Events for Cozumel Carnaval 2013 as well as pictures from the past 10 years of Carnaval visit our website and plan your Cozumel vacation today.
email: questions(at)cozumelinsider(dot)com
Toll Free USA: 866-732-8375
About Cozumelinsider.com
Cozumelinsider.com is an online Destination Travel Guide for Cozumel put together by folks who actually live and work on the island. It offers thousands of pages of free travel tips and vacation planning information where visitors can reserve air, hotel, car rentals and excursions. Online for over 10 years to serve you ~ contact us today!