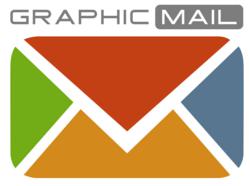 GraphicMail understands the immense value in giving SMBs the power to integrate data from cloud applications, freeing them to use resources to grow their business. We're excited to be working with GraphicMail's dynamic team to deliver cloud integration to
Geneva, Switzerland (PRWEB) February 01, 2013
Cloud computing has been on a significant rise in recent years, with 39 percent of small businesses (SMBs) expecting to be using one or more cloud services by 2015[1] Doing business "in-the-cloud" extends information technology capabilities at low cost while offering flexible and speedy services to businesses. GraphicMail's partnership with OneSaas will make it easy to gain optimal intelligence from synchronizing mailing list data with data from accounting, billing and invoicing, e-commerce, event management, and CRM systems.
By providing behind-the-scenes automation, OneSaas eliminates the need to manually duplicate data, saving time that translates directly to the bottom line, and ensuring that all systems have synchronized, up-to-date information[2]. Says Nick Eckert, CEO at GraphicMail: "Having offered software as a service for over a decade now, we have been witnessing the rising need of cloud-based integrations for our clients for years; we were one of the first email marketing service providers to have added Drupal, Wordpress, Magento and Opencart to our service offer. We chose to partner with OneSaas because they make it easy to share data with over 55 CRM, accounting, billing, logistics, project management and eCommerce apps. This will fulfil the needs of many of our customers".
GraphicMail has always aimed to be at the forefront of new technologies when it comes to assisting businesses in the mobile and email marketing environment. Partnering with OneSaas makes it even easier to bring together information from mailing lists and data management applications, and manage it in a cloud-based package.
OneSaas CEO Jeff Perlman commented: "GraphicMail understands the immense value in giving SMBs the power to integrate data from cloud applications, freeing them to use resources to grow their business. We're excited to be working with GraphicMail's dynamic team to deliver cloud integration to their customers."
Being able to use market-based and local data allows for a segmented approach to mobile and email marketing, ensuring that businesses succeed at their marketing communications and digital sales campaigns by relying on to-the-point, near-real-time information that relates directly to their specific target markets. GraphicMail clients will be able to integrate their email marketing accounts with Adobe Business Catalyst, eBay, Eventbrite, Salesforce, Xero, Zoho, and many more cloud services by February 2013.
About OneSaas
OneSaas is a Software-as-a-Service (SaaS) cloud integration platform that solves the challenges of integrating disparate cloud-based or on-site accounting, billing and invoicing, email marketing, e-commerce, point-of-sale, event management and CRM systems.