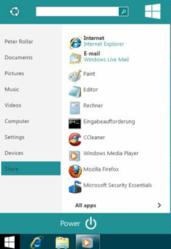 Now with new windows 8 skin and 20 extra features
Bristol, UK (PRWEB) February 01, 2013
Vistart the free start menu for Windows 8 and older Windows versions got a "double" major update with lots of new and improved features. Vistart has of course all the features that users can expect from a start menu and then some more. One of the best features in comparison of some paid alternatives like Start8 from Stardock, is of course that Vistart 8 is completely free while having more features and functionality.
Vistart 8 functions in Windows 8 just like the original start menu in windows 7 and has some extra features on top of that especially for windows 8. To highlight some of our new features:
Now ViStart comes with 3 Start Menu skins and 4 Start menu buttons pre-installed and a completely renewed skin manager making Vistart the best customizable Start menu on the net.
New control panel with lots of extra features, Skip the Metro and boot directly to your windows 8 desktop, Right click on "Apps" search result to pin a app to the start menu. Plus additional right click support. Vistart Windows Start Menu runs on Windows 8, Windows 7, Vista and XP and has over 20 new extra features and improvements
Start Menu Skins
The most eye catching is of course the complete renewed skin manager for Vistart that comes with already 3 pre installed skins and 4 start button images. There is the extra option now to change the Vistart skins in a eye blink without even have to restart Vistart or Windows. This is also the case for the start buttons that can be can changed independently from the skins so users can mix start buttons and skins to select their look of choice for Vistart. On the website 25 additional free skins and 20 buttons can be downloaded that are now even more easy to install. There is the option to use .png images to enhance the start menu button or create new skins so Vistart deserves the price for the most customizable start menu available on the net.
http://lee-soft.com/skins/startmenu_skins_1.html
Completely new control panel
Vistart has a completely new control panel for all options and preferences that is easily accessible from various places within the Start menu. Now it's possible to adjust all settings/options/preferences in one place and there are a lot of new options and settings added.
Metro Control and Access
Within the control panel it's possible to control how metro is behaving or even disable certain metro features. Par example the option to set Windows 8 to skip the metro and boot directly to the windows 8 desktop. Or to Disable "hot" corners, charms bar, etc to even make Windows 8 function like Windows 7.
New and Improved Features list
There are too many new settings and features to discuss them all in detail but here is a list that sums up the most important ones:
Completely renewed skinning engine, Two extra pre installed start menu skins, XeBlack 2.0 and Windows 8 Start Menu style, Four extra pre installed start buttons, switch between skins without having to reload ViStart, Skins/Themes can now be installed more easily.
New ViStart control panel, giving the user more control over ViStart and all its features, Added more right click menus to easily access options and control panel, Improved support for skipping the metro start up screen, Added support for disabling annoying windows 8 desktop features and like charms bar and start corners (Essentially making your windows 8 desktop like Windows 7).
Drastically improved load times, Improved pinning support and better Jump list support, more shortcuts options to the surface(menu) inside of ViStart, Text is rendered better and more clearly (resembles Windows 7 start menu), now choose how certain features of ViStart behave (ie, start button opens ViStart but windows key can open surface menu or vice versa)
Vistart has continued support for Windows XP, Vista and Windows 7 and lot's of smaller extra options, features and improvement !
For more info on all features of Vistart, the ViStart user guide, Vistart FAQ and to download the new Vistart 8.1 go to the website http://www.lee-soft.com/vistart/
History of Vistart "Windows start menu"
Vistart originally was made in 2006 to have a Vista start menu for windows XP. Since then has been updated many times and downloaded over 30 million times. In February 2012 there was a new version that would have special features for Windows 8. Since Microsoft decided to get the start menu out of Windows 8 there were added extra features so users can have the best of windows 8 and windows 7 combined.