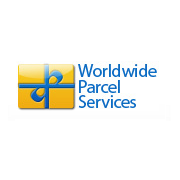 Worldwide Parcel Services are now offering discounted rates for eBay customers as online auction sales soar.
London, United Kingdom (PRWEB UK) 1 February 2013
Increasingly people are selling a lot of goods on eBay just as a hobby or as a business. Regular sellers will know how expensive sending parcels has become, particularly in comparison to recent years where in the poor economy, prices have soared.
So regular sellers may be pleased to know that Worldwide Parcel Services has just introduced a special discount just for eBay sellers. Indeed the website makes it simplicity itself for customers to receive a five percent discount off of their standard rate parcel services. Auction sellers simply enter a snippet of code that WPS provide, straight into each and every eBay listing. This code enables the Worldwide Parcel Services logo to appear in each listing, demonstrating to customers that an authoritative delivery service will be used to deliver customers' goods. The logo is small and unobtrusive and does not detract from the listing in any way, and as a token of gratitude for this, WPS then provide a five percent discount on shipping for the eBay seller.
All that's needed to do to claim this discount is put the link to the specific eBay listing in the relevant box on Worldwide Parcel Services online ordering system, and a parcel discount code will be provided automatically once the auction is confirmed as being legitimate.
If sellers are currently using the Post Office to send most of deliveries then they will likely be pleased to know that even though Worldwide Parcel Services is an online courier service, a delivery driver will come to collect the parcel; and so there is no waiting around wasting time at the Post Office.
Additionally customers need not worry about how much delivery will cost to send, as Worldwide Parcel Services' online parcel calculator provides an instant price for the parcel delivery, based on the external size and weight of the package. Deliveries can then be paid for online, therefore removing the worry of being in the Post Office wondering if there's enough cash in the wallet to pay for the order.
Worldwide Parcel Services online parcel courier booking service enables customers to choose a time slot and a day for shipping goods out to eBay customers. The best bit is that the online parcel calculator enables customers to get an exact price for sending a parcel both domestically and internationally. This means that sellers can put the exact price of the carriage in an eBay auctions, meaning that sellers do not get stung with shipping charges that were much higher than originally expected.
Many people have never used a parcel courier before and will be amazed at how easy Worldwide Parcel Services' online booking system is to use. If an exact size and weight of the parcel is provided, along with the shipping address, the booking can literally be placed in a couple of minutes. Also by offering this online booking service it means the courier is not only open 24/7, but also that customers are never left on hold ever again waiting to make a booking, which has to be a very good thing.