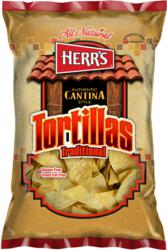 Nottingham, PA (PRWEB) February 04, 2013
Dipped in a zesty salsa or straight from the bag, Herr's® Authentic Cantina Style Traditional Tortilla Chips are the real deal. Herr's starts with the very best 100% yellow corn and stone grinds it to a quality masa, then seasons and cooks the tortilla chips thin and crispy. Authentic Cantina Style Tortilla Chips are all natural, gluten free, contain no Trans fat or MSG. Herr's Cantina Style Tortilla chips have authentic Spanish taste!
Herr's Authentic Cantina Traditional Tortilla Chips are unlike any tortilla on the market. With the big crunch of traditional restaurant style chips, they are the perfect companion to any dip or salsa. Herr's Authentic Cantina Tortilla Chips are sold in 13 ounce bags, with a suggested retail price of $3.99.
Herr's® information can be found at http://www.herrs.com, facebook.com/herrs, twitter@herrfoods.
Note: Samples and a high resolution photo - available upon request.
About Herr Foods Inc.
A recognized leader in the snack food industry, Herr Foods Inc. is headquartered in Nottingham, Pa. The family-owned-and-operated company began 66 years ago in Lancaster, Pa., and now employs over 1,500 people who make 340 delicious snack products that are available worldwide.