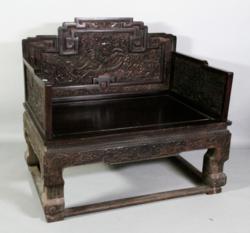 Beverly, MA (PRWEB) February 13, 2013
High quality Chinese items shone at Kaminski Auction's recent Fine Asian Art and Antiques sale, held on Saturday, January 26. Over four hundred lots reached the auctioneers podium over the course of the six-hour sale for a day of competitive in person, online, and over the phone bidding.
From ceramic s, to jade and ivory, the auction offered a variety of valuable items from Asia. The top lot of the day, however, belonged to none of those familiar categories. The striking top lot, an antique zitan wooden throne, sparked a frenzy of bidding that drove the price far and away above the original estimate of $6,000.00 to $8,000.00. Ultimately sold for $29,000.00, the stunning throne featured elaborate carved designs. A carved dragon encircled with a fire and cloud pattern highlighted the back panel. Dragons decorating the armrests continued the intricate motif.
The other top lots of the sale, although smaller in size, made a similarly large impression upon the bidding audience. A green jadeite bangle from the nineteenth century also sold well above estimate. The elegant, gold embellished piece carried an estimate of $600.00 to $900.00, but initiated quick and competitive online bidding that finally brought the price to $5,500.00.
Many ceramic pieces also sold above estimate. Particularly noteworthy were the few fine examples of famille rose and famille vert ceramics among the top lots of the sale. One such lot was Lot 7087, a famille vert vase in the gu form with four dragons and a floral scrolling pattern. This eye-catching piece captured significant interest and reached $4,750.00, far more than its estimated $800.00 to $1,200.00 value.
A famille rose figure of a reclining happy Buddha also commanded the interest of the audience. The exceptional sculpted and painted detail of this Buddha drove the price above the original high estimate. The popular piece sold for $2,100.00. A famille rose candleholder that carried a Jia Qing mark on the base, scrolling flower designs and auspicious marks, sold for $3,250.00.
An exceptional set of three export rose mandarin Chinese platters from the early nineteenth century, was also among the top selling lots of the auction. The platter set was finely decorated with a wide figural borders running around central cartouches of butterflies and vegetables. It sold for $3,250.00.
Two more unusual lots piqued special interest with the auction's in-person and online audience. An atypical ivory box from eighteenth century Mughal Empire of India attracted many bidders. The intriguing box was labeled "Spink and Son #11" and was affixed with silver handles that emphasized intricate carvings covering the box. The box sold at its high estimate of $4,000.00.
A remarkable set of ten collectable Chinese one Jiao bank notes rounded out the top ten lots of the sale. The 1960 bank notes were marked with the serial number IV IX 9412164-9412171, and sold for a high $3,250.00.
Other items of interest included a brown agate Dzai bead, which sold for above the $800.00 high estimate for $1,100.00.
The Fine Asian Art and Antiques sale wrapped up a busy month of auction for Kaminski. The successful auction saw the sale of many valuable Asian objects to a substantial phone and in person audience, as well as over 321 Internet bidders, with a total of $165,000.00 in online sales. Please email asian(at)kaminskiauctions(dot)com or contact Bob Yang at 508-873-9595.
KAMINSKI
Kaminski Auctions, located on the North Shore of Boston, has been serving the New England antiques market for over 25 years as a full service auction house and appraisal service for fine art, antiques and estates.
With two locations in Beverly, Massachusetts, including a new state of the art auction gallery located at 117 Elliott Street, and a historic 1850's barn and office facility at 564 Cabot Street, Kaminski Auctions hosts 25 auctions a year.
In today's highly competitive market of fine art and antiques, Kaminski Auctions provides its customers with bicoastal services and marketing with west coast offices in Beverly Hills and San Diego, California.
Kaminski Auctions offers specialty departments in Asian Art and Antiques, Silver, Glass and Lamps, Couture and Vintage Clothing, Photography and Modern Design . We have highly trained and knowledgable appraisers on staff that will help you determine the true value of your antiques, or entire collections. Free Appraisal days are offered every Tuesday from 10:00am-4:30pm at our 564 Cabot Street location in Beverly, Massachusetts & our 5171 Santa Fe Street location in San Diego, California. We welcome emailed photos of your items!
Contact Harry Morgan - hmorgan(at)kaminskiauctions(dot)com