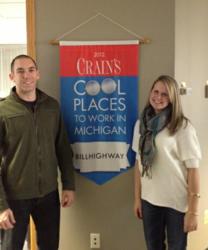 Troy, MI (PRWEB) February 01, 2013
Billhighway, foremost provider of cloud-based financial management solutions for nonprofit organizations, announces the strategic expansion of its team with two new hires. Joining the ranks are Pete Wardrope as Sales Engineer and Mary Girodat as Company Team Player.
Pete Wardrope brings over 10 years' experience in public accounting and consulting to the Growth team in his role as Sales Engineer. Wardrope was most recently a Practice Leader and Senior Manager at Grant Thornton LLP, where he delivered compliance, operational assessment and auditing services to high profile clients in a variety of industries. In his customer-facing role at Billhighway, Pete is responsible for uncovering business requirements and effectively demonstrating product solutions to solve client needs. Pete holds a B.A. in Accounting from Michigan State University.
Mary Girodat comes to Billhighway from Talmer Bank & Trust where she served as Executive Administrative Assistant. In Mary's role as Company Team Player she is responsible for a comprehensive set of activities including meeting and event coordination, corporate travel, marketing support and front office management. Mary has a Bachelor of Business Administration degree from Rochester College.
Notes Vince Thomas, Chief Executive Officer of Billhighway, "We're thrilled to expand our team with these two talented, high-performing professionals. As we continue to innovate and expand our product offerings for the nonprofit industry, it's imperative to build a strong infrastructure. Pete and Mary are both positioned to support Billhighway's commitment to delivering best-in-class financial management solutions through their individual roles in sales and departmental support, respectively."
Billhighway is the foremost provider of cloud-based financial management solutions tailor-made for nonprofit, donor and member-based organizations. Billhighway's suite of nonprofit financial management solutions lets organizations dramatically improve accounting, payment processing and online banking. The cloud financial management solution easily configures and scales to address donor, membership and financial processing needs. Nonprofit organizations use Billhighway's financial management system to reduce expenses, increase cash flow and mitigate risk. More than 3,500 nonprofits trust Billhighway to seamlessly manage $6 billion in transactions. Billhighway is recognized for award-winning customer service and industry-leading data security.
For more information visit http://www.billhighway.com.