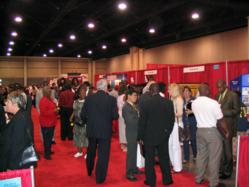 "Recruiting is becoming very impersonal. Career Fairs continue to promote face-to-face meeting and that's where the rubber meets the road"
Chicago, IL (PRWEB) February 04, 2013
Psijobfair.com will be hosting a Chicago Career Fair on February 19 from 10am – 3pm at the Navy Pier located in Downtown Chicago. The Fair is open to all candidates and includes a 'Special Veteran Initiative'. Additional resources will be available to help veterans with questions regarding benefits and employment. This year's event will also include the NAACP Fact Pavilion offering free financial advice and assistance for getting out of debt and building wealth.
Diversity job fair means everyone and Chicago Diversity Career Fair is open to the entire community. According to Mike Hall President of PSI 'Recruiting is becoming very impersonnal. Career fairs continue to promote the face-to-face meeting and that's where the rubber meets the road." Featured employers include Walgreen's, Waste Management, Wells Fargo Advisors, Sherwin Williams, Sinai Health System, Jewel Osco, Strayer University, National Geospatial – Intelligence Agency, to name a few. Careers will be available in sales, health, technology, finance, security, law enforcement, education, management, government, and much more.
Event is free to candidates who receive 2 free career-enhancing e-books and Career Coach Nick Dillon will give away 10 free career-coaching sessions. The Chicago Career Fair is a great way to meet with multiple employers in one location and start the New Year with a new career.
About PSI Job Fair
PSI is the nation's leading and most established producer of Career Fairs. Their programs help jobseekers make valuable connections with many Fortune 1000 employers who participate in PSI's events. PSI programs help employers with their compliance and diversity initiatives. They are the only job fair producer endorsed and partnered with leading organizations like the NAACP, National Urban League, and many leading professional associations. PSI's community partners provide both employers and candidates an enterprising and authentic diversity friendly environment to explore career opportunities.