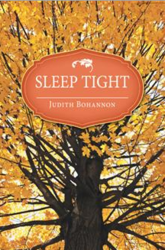 Sleep Tight helps readers see the difficulties in emotions and relationships, and how one woman, Maggie Gray Bales, struggles to make these two entities consistent with her faith.
Knoxville, TN (PRWEB) February 01, 2013
An estimated 5.4 million Americans currently suffer from Alzheimer's disease and 15 million people serve as caregivers.
Author Judith Bohannon knows the challenges and frustrations that accompany this crippling disease. She was a caregiver to her husband, which allowed her to see the physical and emotional stresses of the illness.
In her new fiction book, "Sleep Tight", Bohannon draws on many of the scenarios from her own experiences with her husband. As a Nationally Certified Family Life Educator, her professional training serves as a catalyst for describing the various relationships found throughout this story.
In the story "Sleep Tight", after thirty years of happy marriage Maggie's world is shaken when her husband, Carson, is diagnosed with Alzheimer's. Her love and loyalty never waver as she copes with the frustrations of dementia.
Bohannon tells the story about a strong, determined, honorable woman who meets different challenges along her journey – a woman who is sometimes vulnerable and who may stumble, but who has the reader cheering her on at all times.