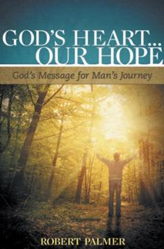 The objective is to explain these truths in a compelling way that will both inform and inspire
Naples, FL (PRWEB) February 22, 2013
Dr. Robert Palmer has dedicated his life to studying scripture and has taught and preached at various seminaries and churches. Palmer was encouraged to write his new book, "God's Heart… Our Hope", when a former vice president of NBC was so moved by Palmer's explanations of Scripture.
What good is faith in Christ if it is not rooted in an understanding of scripture? An academic pastor has the solution.
Palmer wishes to help people have a better knowledge of scripture so that they can have a more fulfilling relationship with Christ. Every statement Palmer makes in his book is supported by passages in the Bible.
"God's Heart…Our Hope" is a result of Palmer's experience and knowledge in Christian doctrine. He holds that anything less than a hope grounded in the core teachings of Scripture may sound compelling, but it will never hold up; it will only fold up.