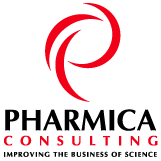 Biogen has been getting into this area in earnest lately
Boston, MA (PRWEB) February 04, 2013
Pharmica Consulting is widely considered to be the life sciences expert in operational excellence. As part of its continued service to the life sciences industry, Pharmica will be hosting its first Risk-based Monitoring Conference on March 19, 2013 in Boston, MA. The one day conference will highlight real world case studies and help the industry better understand the implications, challenges, best practices and lessons learned on how to effectively implement the FDA guidelines for the risk-based approach to monitoring. Najma Saleem, Post-Doctoral Fellow in the Safety & Benefit Risk Management department at Biogen Idec, has been added to the agenda as a speaker.
"We are happy to have Biogen Idec as a speaker," said Eric Lake, Partner with Pharmica Consulting. "Biogen has been getting into this area in earnest lately so they are a perfect choice to speak."
"Risk-based monitoring and quality risk management are such important topics these days," adds Farouk Rhymaun, Principal Consultant at Pharmica. "Najma's talk is titled 'Drug-Induced Liver Injury: Premarketing Clinical Evaluation'. She is really going to get into the nuts and bolts of things which will be great for the audience."
"I think our conferences work so well because they are so focused on the real world," said Matt Kiernan, Partner with Pharmica Consulting. "What Najma is speaking about directly reflects her experience working in this area. Attendees will hear all the details and have all of their questions answered."
Those interested in learning more about Pharmica Consulting's service offerings can visit http://www.PharmicaConsulting.com. To request additional information, please contact Eric Lake at 973-945-4482 or Greg Cohee at 215-579-1650.
About Pharmica Consulting -- Pharmica Consulting, one of the life sciences industry's leading consulting firms, provides a variety of offerings designed to help pharmaceutical and biotech clients achieve true Operational Excellence. Consultants at Pharmica invest the time needed to truly understand a client's specific challenges—and tailor solutions to help them create a more profitable business environment. Pharmica Consulting knows how to build effective strategies—and deliver against those strategies as promised.