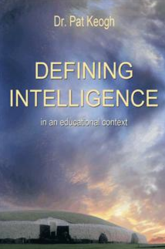 Behavior is not a reflection or manifestation of intellectual processing. Contemplation and intellectualizing are outside the realm of empirical testing methods
Dublin, Ireland (PRWEB) February 22, 2013
In Dr. Pat Keogh new book, "Defining Intelligence", he addresses the importance that needs to be placed on creativity to define intellect. Keogh is a principal teacher in a large Dublin suburban primary school and has spent his life devoted to child-centered education.
Does Mensa have it all wrong? Can and should one's own intellect be measured by simply a test, or are there other factors that need to be considered?
Keogh stresses the importance that needs to be placed on creativity in early childhood education. Intelligence involves abstract, purposeful, logical thinking and the ability to create and execute ideas, including unconscious thinking.
The mind never rest. Day dreaming, which involves reflection, organizing thoughts, planning etc., is often seen as idling and time wasting, but this is not the case.
Defining Intelligences relays the message that observing or analyzing behavior, appearance, character traits, beliefs an acquired knowledge should not be used to produce a quantifiable measure of a person's intelligence.