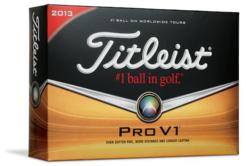 The best feeling golf ball I have ever hit. Longer than previous models with a generous amount of spin to the green - Paul
(PRWEB) February 12, 2013
The 2013 Pro V1 has been tested and validated by golfers at every level of the game - including the world's best tour professionals, PGA professionals and amateur golfers of all swing speeds - to resounding positive feedback and success. The new Pro V1 offers longer distance due to lower driver and long game spin, and a shallower angle of descent that produces more roll. It also maintains its outstanding drop-and-stop control, providing all golfers with the proven short-game scoring performance that contributes to shooting lower scores.
The softer ZG process core technology in the Pro V1 allows for a lower, more controlled flight with lower driver and long iron spin that results in a shallower angle of descent, providing golfers with even more distance. That softer compression also makes this the best-feeling Pro V1 yet and gives golfers an even greater sense of control with shots into and around the green.
An improved Urethane Elastomer cover formulation and new paint system have increased the durability of the new Pro V1, making the ball look whiter. The new cover and paint system also contributes to an aerodynamically more consistent golf ball. The improvement to the formulation of the urethane cover means that it retains its out-of-the-box appearance longer, and introduces a new paint system with exceptional adhesion to the cover. A responsive ionomeric casing layer and spherically-tiled 352 tetrahedral dimple design also contributes to the new Pro V1's high performance tee-through-green. The 352-dimple pattern has five different dimple sizes and three axes of symmetry that help produce a penetrating ball flight that holds its line in the wind.
Prior to its official launch in the marketplace, the new Titleist Pro V1 golf ball underwent rigorous machine and player testing. More than 45,000 golfers around the world participated in the R&D testing process, with each golfer receiving new Pro V1 prototype golf balls and having the opportunity to report their feedback through Team Titleist.
"The Pro V1 have always been one of our biggest sellers," said Francis St-Gelais, President of Promo Golf Ball. "So when Titleist says these new balls are the best they've ever made, that translates into better performance for our customers."
PromoGolfBall.com recommends customizing your new Titleist Pro V1 with a personal message or with your corporate logo. PromoGolfBall.com offers the fastest turnaround for personalized golf balls in the industry and can have your new Titleist Pro V1s printed and shipped to you within two to five days.