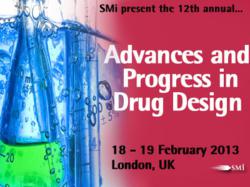 London (PRWEB UK) 2 February 2013
Organisers confirmed that this year's event will feature presentations from leading luminaries on CADD Optimization Strategies, Kinetics-Based Drug Design, FBDD and Water Binding Site Analysis.
The event will also feature two post-conference workshops on fragment-based lead discovery and binding kinetics for drug design.
John Mathias, Head of Medicinal Chemistry - Inflammation & Remodeling from Pfizer commented: delighted to be involved with SMi in such an insightful & looking forward to the event...
KEY BENEFITS OF ATTENDING INCLUDE:

Explore novel computational approaches to Polypharmacology and Mode-of-Action Analysis
Apply CADD to protein therapeutics with a focus on antibody humanization and stabilization and develop drug design strategies for anti-virals and combating resistance
Evaluate the future of water network perturbation in structure-based drug design and hear from industry leaders on drug binding and subtype selectivity in GPCRs
Analyse kinetic and thermodynamic signatures and their influences on Hit-and-Lead Optimization
Consider data integration and developments in public-private partnerships
Dale Butler, MD of event organiser SMi reported: 'response to this year's event has been extremely positive thanks to the strength of industry bodies and Drug Design specialists we have on board. We look forward to once again providing a Europe-wide platform for debate and knowledge-sharing amongst our varied communities, both in the lead up to and at the event itself'.
About SMi Group
Established since 1993, the SMi Group is a global event-production company that specializes in Business-to-Business Conferences, Workshops, Masterclasses and online Communities. We create and deliver events in the Defence, Security, Energy, Utilities, Finance and Pharmaceutical industries.
We pride ourselves on having access to the world's most forward thinking opinion leaders and visionaries, allowing us to bring our communities together to Learn, Engage, Share and Network. We hold events in over 30 major cities throughout the world including London, Paris and Singapore and to date have welcomed over 200,000 participants from 80 countries.
A full programme and further information can be found at
http://www.smi-online.co.uk/goto/2013drugdesign37.asp