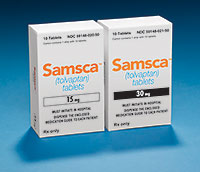 (PRWEB) February 01, 2013
On January 25, 2013, the FDA issued a warning relative to Otsuka Pharmaceutical's drug Samsca, and the generic version Tolvaptan - Drug Warning - Potential of Liver Injury.
The FDA urged healthcare providers to conduct liver tests immediately and to discontinue the use of Samsca if patients exhibit signs of liver injury.
According to the FDA warning, three of 1,400 patients with Autosomal Dominant Polycystic Kidney Disease (ADPKD) who treated with Samsca developed significant increases in serum alanine aminotransferase (ALT) with concomitant, clinically significant increases in serum total bilirubin. According to the FDA, Samsca (Tolvaptan) is not approved for the treatment of ADPKD.
These findings of the study indicate Samsca (Tolvaptan) has the potential to cause irreversible and potentially fatal liver injury. These data are not adequate to exclude the possibility that patients receiving Samsca for its indicated use of clinically significant hypervolemic and euvolemic hyponatremia are at a potential increased risk for irreversible and potentially fatal liver injury. Most of the liver enzyme abnormalities were observed during the first 18 months of therapy.
According to the FDA, treatment of ADPKD with Samsca is not approved.
Samsca (Tolvaptan) side effects include liver injury, fatigue, anorexia, right upper abdominal discomfort, dark urine or jaundice.
Rhett McSweeney and David Langevin are currently providing free and confidential case evaluations to patients and families harmed by Samsca (Tolvaptan).