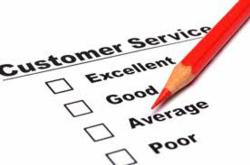 Only customers can change the way companies behave and it can only happen when a customer starts a revolution...
(PRWEB UK) 7 February 2013
WhoHow.co is launching a new movement to help consumers harness the power of social interaction and make businesses more accountable. The focus of the new website is to rewrite customer service standards, make companies more responsive to complaints, and ensure that customers receive the satisfaction they deserve.
Participants will be able to create discussions, focus groups, subscriptions, debates, polls and blogs without censorship or editing. Owner Deepankur Julka says he hopes people around the world will log on to share experiences, achievements, incidents or opinions. He says all views are welcome as long as they pertain to services, products, businesses and markets. "Our focus is to enable people to redefine customer service standards across the world that are delivered by various businesses and even governments," Julka says.
The vision of WhoHow.co is to create a global customer relationship management platform within a social environment where good companies look after their customers and gain more customers, and bad companies are highlighted to protect other customers. Because it is often a waste of time to launch complaints on other social media sites, Julka says customers can ensure their voices are heard while having fun by sharing their experiences on WhoHow.co.
The creators of WhoHow.co believe many people have bad customer services experiences, but keep quiet because they don't think there is anything they can do about it. However, they are hoping their network can change that for future generations. Julka says, "We want customer service for products and services to be defined by the customer for the customers, and we will help you find organizations that are willing to deliver what you need."
In addition to helping customers find worthy businesses, WhoHow.co is also designed to help businesses to better understand and respond to their customers. It offers social media research, marketing research, and market surveys.
About WhoHow.co:
WhoHow.co specializes in market research and customer satisfaction. Through its powerful online network of multiple research channels and targeted consumer campaigns, it connects customers with vendors who respect and nurture their needs. To discover what WhoHow.co can do for you, please visit WhoHow.co.