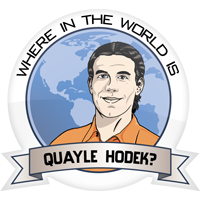 Quayle is a powerfully inspiring speaker and environmental evangelist. This year, we are taking advantage of his travel and speaking schedule to help promote the power of our mission and message." Amy Haddon, VP of Communications for Renewable Choice
Boulder, CO (PRWEB) February 01, 2013
Colorado-based Renewable Choice Energy (http://www.renewablechoice.com) announced today that it will highlight the global travels of CEO Quayle Hodek through a "Where in the World"-style series. The program will track Hodek's journeys throughout 2013, kicking off with Hodek's appearance at TEDxMaui earlier this month.
Called one of the "7 Hottest CEOs" by Treehugger.com, a "Top 30 Under 30" by Utne Reader, and one of Red Herring's "Top 25 Entrepreneurs Under 35," Hodek is a sought after speaker and professed eco-traveler who is passionate about writing and experiencing new cultures and countries. The highlight program will track Hodek's travels during 2013 and will be featured on the Renewable Choice blog and other social media outlets. A webpage on RenewableChoice.com has also been dedicated to Where in the World is Quayle Hodek.
"Quayle is a powerfully inspiring speaker and environmental evangelist," said Amy Haddon, VP of Communications for Renewable Choice. "This year, we are taking advantage of his travel and speaking schedule to help promote the power of our mission and message."
Renewable Choice is a leading renewable energy and sustainability solutions provider named the Green Power Supplier of the Year 2012 by the U.S. Environmental Protection Agency. Founded by Hodek in 2001, the company has grown to become one of the largest and most respected renewable energy and sustainability companies in the U.S. Its clients include 50 of the Fortune 500, more than 3,500 LEED-certified green buildings, and scores of government clients and middle-market businesses.
Hodek is widely recognized as a pioneer in green power marketing for his efforts introducing renewable energy and carbon reduction options to new markets and industries. He is a frequent speaker at industry events and educational institutions on the role of clean technology, entrepreneurship, and sustainable development in solving the world's most pressing energy and environmental challenges. Hodek has been featured in numerous national and international media outlets including CNN, CNBC, The New York Times, TIME, and the Wall Street Journal and given the Green Power Beacon award for market development from the U.S. Department of Energy.
About Renewable Choice
Founded in 2001, Colorado-based Renewable Choice Energy is a leading global provider of renewable energy credits (RECs), carbon offsets, greenhouse gas measurement services and software, supply chain sustainability consulting, and energy efficiency solutions. Renewable Choice works with Fortune 500 Companies, educational institutions, small businesses, residential customers and has worked on over 3,500 LEED® green building projects. Renewable Choice and its clients have received prestigious awards from the EPA and DOE for supporting and expanding the renewable energy market—including the coveted EPA Green Power Supplier of the Year in 2012--and have been featured in hundreds of media outlets including The New York Times, Wall Street Journal, CNN, USA TODAY, and more. To learn more, visit http://www.renewablechoice.com.