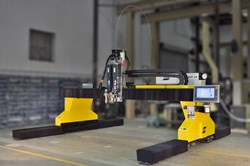 Florence, SC (PRWEB) February 01, 2013
ESAB Cutting Systems introduces the Hydrocut™ LX Waterjet Shape Cutting Machine - the latest version of ESAB's popular Low-Rail Hydrocut machine. This new Hydrocut LX includes all of the recent advancements in gantry design and modular assembly that have been used on ESAB's Avenger X series gantry, making it an enhanced replacement for the Hydrocut LR gantry.
The Hydrocut LX is a large gantry with a high-stiffness beam design featuring dual precision linear rails and precision rack & pinion drives. The size and strength of this gantry make it ideal for accurate waterjet cutting over large working areas with multiple process tools. It is widely used throughout heavy manufacturing and fabrication industries when waterjet cutting is required on large plates in harsh environments. The rugged structure and reliability of the Hydrocut LX are unmatched. And only ESAB offers fully integrated process control for every tool on the machine, making it easier for operators to cut quality parts the first time and every time.
The Hydrocut LX gantry can be equipped with up to four waterjet stations, and can also carry up to two high definition plasma stations, featuring ESAB's m3 Precision Plasmarc system. This patented combination of waterjet and plasma on the same machine allows customers to use the precision of waterjet where necessary, and the speed of plasma where possible, on the same parts. Parts that are suited for the waterjet-plasma combination can be cut in a fraction of the time, resulting in dramatic cost reduction and productivity increase when compared to waterjet cutting alone.
Designed for long service life and low maintenance requirements, the Hydrocut LX features digital AC drives and precision heavy-duty gearboxes. The sturdy gantry features all-steel construction with machined mating surfaces and rides on a floor mounted heavy-duty 85-lb. crane rail system. Both X and Y axes are protected with bellows covers to keep abrasive materials and moisture away from the rails. The machine achieves accurate speed control down to 0.1 ipm (2.5 mm/min) up to 1,400 ipm (35,560 mm/min) and is available in cutting widths from 8' to 18' (2.4 m to 5.4 m) and working lengths up to 56' (17 m).
Standard equipment on the Hydrocut LX includes ESAB's Vision T5 touch-screen CNC. This control is easy to learn, easy to use, and features a built-in process database that simplifies all process tool setup by automatically setting all parameters based on selection of material type and thickness. The Windows® based Vision T5 CNC also provides network connectivity and USB support.
The Hydrocut LX is available with a choice of 60,000 PSI waterjet intensifier pumps up to 200 HP. The cutting station features the KMT AUTOLINE II™ Abrasive Cutting Nozzle and FEEDLINE IV Abrasive Metering System. Cutting is automated with ESAB's programmable Automatic Height Control system, which can operate in three different modes depending on the type of parts and material being cut. The gantry clearance and vertical lifter stroke will allow cutting materials up to six inches thick.
The Hydrocut LX is one of the new global platforms built at ESAB's Florence, SC modular manufacturing facility. The machine is built with many of the same electrical, tool station, and process modules as ESAB's other plasma and oxy-fuel cutting machines, which means ESAB can provide better service and support over the life of the machine.
ESAB Welding & Cutting Products is one of the world's largest and most experienced manufacturers of welding and cutting equipment and welding filler metals. Recognized as the technological leader in the industry, ESAB is committed to providing cost effective solutions for its customers. For more information on the Hydrocut LX, visit http://www.esab-cutting.com or call 1-800-ESAB-123.