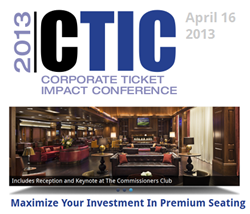 The ticketing industry is undergoing a massive transformation in how business is conceived, negotiated and eventually justified back to executive management and shareholders
New York (PRWEB) February 05, 2013
The 2013 Corporate Ticket Impact Conference (CTIC), the premier event bringing together sports leaders and corporate executives to shape the future of corporate America's involvement in sports, comes to MetLife Stadium in New York on April 16th. ESPN Sports Business Reporter Darren Rovell will headline a group of over 60 esteemed team presidents and corporate executives presenting key topics facing businesses and teams today. Featured speakers include:

Brett Yormark - CEO of the Brooklyn Nets and Barclays Center
Brad Mayne - President & CEO of Metlife Stadium
Scott O'Neil - Former president of Madison Square Garden, Sports Business Journal "40 Under 40" Recipient
Ray Bednar - Rockefeller Consulting & Former Global Sponsorships Executive at Bank of America, Forbes 100 Most Powerful in Sports Honoree
Gary Grose - Managing Director, US Marketing & Communications, Marsh
"Ticketing is the most dynamic and volatile part of the sports business today. Teams can't price in a vacuum and ticket holders, educated by a more transparent marketplace, are asking for more," said ESPN Sports Business Reporter, Darren Rovell. "That's why sharing information at this conference is so essential."
The conference will address a number of issues pertaining to corporate entertainment and includes guests accounting for tickets totaling several billion dollars in assets every year. There will be a number of individual sessions with league executives from the NBA, NHL, NFL and big companies seeking to shape the buyer and seller relationship for years to come.
"The ticketing industry is undergoing a massive transformation in how business is conceived, negotiated and eventually justified back to executive management and shareholders," said Raymond Bednar of Rockefeller Consulting. "We've needed a conference exactly like this for a long time now. It's a must for team and sponsorship executives - primarily as an unparalleled opportunity to learn what's really going on in the dynamics of the industry - but also as an important networking event."
The premier networking opportunity in sports features a Buyers and Sellers Summit, a tour of MetLife Stadium (the most expensive venue ever constructed) as well as a series of workshops to attend on dynamic ticket pricing, electronic ticketing and transferring, de-bundling of ticket assets, charitable giving and more included with registration.
Professional teams will finally get insight into their biggest customers and identify the most important issues for businesses entertaining clients at events. Companies will get a first-hand view at how these venues and teams run their front offices with advice for driving impact using new technology and best practices.
CTIC's goal is to enhance the customer's experience and ticket asset efficiency while providing teams with the preferences of the people attending their events. For more information about CTIC 2013, visit CTIC2013.com and use http://ctic2013.com/civicrm/event/register?reset=1&id=4 to get $100 off your registration fee.
About ALSD
The Association of Luxury Suite Directors (ALSD / http://www.alsd.com) was established in 1990 to provide a single platform for our member teams and venues with accurate and timely information from across all layers of the premium seat industry in stadiums and arenas throughout North America with a growing global reach. With its integrated marketing and advertising programs, the ALSD is also positioned to link buyers and sellers, including vendors, suppliers, and food and beverage concessionaires for the venue marketplace.
About Spotlight Ticket Management
SpotlightTMS (http://www.SpotlightTMS.com) is where tickets mean business. Spotlight makes company tickets simple by enabling companies to measure the business impact of sports and entertainment assets while staying compliant.
Spotlight makes tickets available where the business user lives; whether in their CRM, Inbox, or through their team and venue partners. Spotlight partners with over 50 professional sports teams and venues as well as industry leading partners Salesforce.com and Concur. The company is based in Calabasas, CA