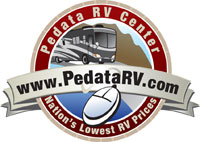 Traveling by RV you spend time together – you make memories together.
Phoenix, AZ (PRWEB) February 05, 2013
Pedata RV Center releases a new tip sheet for owners of RVs and fifth wheels on how to promote a healthy lifestyle and a positive family dynamic. RVing as a means of achieving a healthier lifestyle and developing a positive family dynamic isn't difficult or surprising. According to a Harris Interactive survey cited by the RVIA (Recreational Vehicle Industry Association), individuals and families that travel by RV (fifth wheels, Class As, Class Cs, etc.) have more opportunities for positive interaction in healthy environments. To successfully utilize RVing as a means of improving the overall lifestyle health and the healthy of the family dynamic, RVers should take advantage of each opportunity as it is presented:
1. Experience nature
2. Enjoy the outdoors
3. Enjoy outdoor activities
4. Experience enjoyable, quality family time
Gerard Pedata of Pedata RV Center said, "It's not just a way to save money on your next vacation, RV travel is a solution for a lot of the problems that are tearing apart the basic structure of the family in our society. Traveling by RV you spend time together – you make memories together."
Participants in the Harris Interactive Survey reported enjoying stronger bonds with their loved ones. They also indicated that they viewed RVing as being a benefit to children. The benefits cited included: healthier eating while traveling, sleeping in their "own bed," and having private bathroom facilities instead of accessing public restrooms, etc.
It is highly recommended that individuals looking to make a change to their current lifestyle consider the impetus gained towards their goal by incorporating RV travel into their life. Whether this is incorporating more outdoor activities for their physical health, more relaxation for their mental health or more downtime with family, the RV can be considered a very literal "vehicle" for change.
Pedata RV Center sells used RVs, travel trailers, fifth wheels, campers, and motor homes. Their full inventory is accessible online and due to their low overhead costs they are able to offer competitive pricing in their industry. Easy access to industry and recreational vehicle information allows consumers to have access to the specific knowledge they need to ensure their purchase results in long-term satisfaction