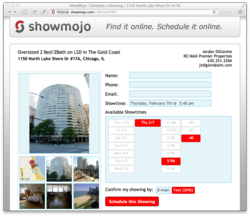 You set your schedule, include all the details about the place, and allow prospects to schedule their own showing.
Chicago, IL (PRWEB) February 05, 2013
The idea for the service began because, as Katja Kutzschbauch says, "I do not always have time to answer the phone."
Kutzschbauch, the mother of two young girls, owns four small apartment buildings in Chicago with her husband, Peter Schuh, an IT consultant.
Her biggest challenge: playing phone tag with potential renters.
Kutzschbauch says she often lost the chance to show apartments because she was unable to answer the phone. "Nap time, lunch time, at the playground -- the phone calls come in at all the wrong times," she added.
So Schuh created ShowMojo, an app for landlords, leasing agents and property managers that, among other things, allows renters to schedule appointments online.
"Every leasing agent and independent landlord thinks their job is to answer the phone and respond immediately to emails," said Schuh. "ShowMojo turns this on its head. You set your schedule, include all the details about the place, and allow prospects to schedule their own showing."
With a ShowMojo account, clients add a button or hyperlink to the online marketing they already use to advertise properties, such as Craigslist.
Prospective renters choose a time that works for their schedules. ShowMojo immediately emails them a copy of the details.
As a showing time nears, the software automatically confirms the showing with the prospect by email or text. This reduces no-shows and wasted time. Those who can't make their appointments can reschedule or cancel online.
"ShowMojo handles all the coordination and communication," said Schuh.
ShowMojo can also propose showing times in a way that clusters showings together at the same location. This means fewer trips to each property and more showings per trip.
According to Kutzschbauch, the scheduling software has packed a single hour at one building with as many as 16 showings. She added, "When that happens, we do need an extra person to help with all the showings."
The software also notifies current tenants about upcoming showings in their apartments, features listing-based metrics to analyze the interest each listing gets, and suggests similar properties to apartment hunters based on the listing they are currently looking at.
Additionally, ShowMojo clients can add important questions to ask prospective renters as they schedule online -- such as if they own a dog.
Kutzschbauch says that tenants who've used the service to schedule an apartment viewing have loved it.
"It's a new generation of renters," she added.
About ShowMojo:
ShowMojo schedules and confirms showings with renters and buyers online, while automating many other scheduling and marketing activities. ShowMojo is the only company to offer landlords, property managers and leasing agents this level of convenience and time-saving automation.
ShowMojo is based in Chicago, IL, and has scheduled showings across the United States -- from Boston, Massachusetts, to Pukalani, Hawaii.
Media Contact:
media(at)showmojo(dot)com
1.855.422.5915