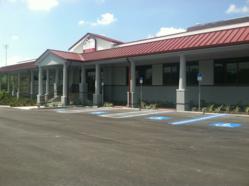 We pass cost-savings onto our patients, says Bottoms.
Tampa, FL (PRWEB) February 01, 2013
Tampa Family Health Centers (TFHC), one of the largest community health centers in the Tampa Bay region, announces the expansion of their full service Nebraska Avenue clinic to include pharmaceutical services.
TFHC's Patient Centered Medical Home (PCMH) model allows patients to receive high-quality, comprehensive, and affordable healthcare with convenient locations throughout the Tampa area. Adding in-house pharmaceutical care to the Nebraska location now provides a convenience, which was previously limited to five TFHC locations. Being housed under one roof, the new pharmacy offers immediate access, providing the patients the ability to walk directly from exam rooms to the pharmacy counter. For a nominal fee based on their income, patients can afford their prescriptions regardless of the status of their insurance.
"With the rising cost of prescriptions and recognizing large retail mark-ups, we saw a need to expand our services to include an affordable pharmaceutical option," says Charles Bottoms, CEO, Tampa Family Health Centers. "As a 340-B (non-profit) pharmacy, we are able to dispense medications that are more cost-effective than retail pharmacies. We pass those cost-savings onto our patients."
All of TFHC pharmacies accept major insurance plans and offer reduced-cost pharmaceuticals for the uninsured. Carrying brand name and generic medications, the TFHC pharmacies provide the same quality of care that patients have come to associate with their health clinics.
The Nebraska pharmacy hours of operation will be Monday through Friday, from 8:00 am to 5:00 pm and will be closed for lunch, from 1:00 pm to 2:00 pm. The Center will continue to offer full-service medical care to men, women, children, adolescents and seniors.
About Tampa Family Health Centers:
Tampa Family Health Centers, a AAAHC/PCMH Accredited and not-for-profit healthcare organization, has been providing affordable, quality healthcare services to the residents of Hillsborough County for almost 28 years. Services include Internal Medicine, Family Practice, Pediatrics, Obstetrics and Gynecology(OB/GYN),Dental Care and Pharmacy. Tampa Family Health Centers is a thriving health care delivery system providing services to the insured and uninsured (based on a sliding fee scale), with thirteen (13) locations throughout Hillsborough County. For more information, visit http://www.tampafamilyhc.com.
If you would like more information about this topic, or to schedule an interview with Tampa Family Health Centers, please call Sarah McConnell, Director of Marketing, at 813-866-0930, ext. 1323 or email slmcconnell (at) hcnetwork (dot) org.