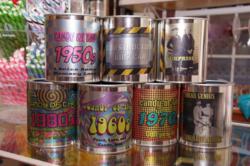 Carmel, Indiana (PRWEB) February 05, 2013
In downtown Carmel Indiana, in the Art and Design District, there lives a candy shoppe.  It's an oasis for candy lovers. The building invites guest in with its charming architecture and candy land type painting. The warm and thoughtful decor will transport everyone back to childhood memories. The owners mission "To create a fun, welcoming environment that offers children of all ages the opportunity to indulge their senses" is evident.
A visit to the store is sure to delight everyone as they look around and see jars full of colorful and delicious treats! The shop features local chocolatiers, Indiana chocolate artisans, along with retro candies to take you back to your youth, when life may have been just a bit sweeter. There is also a cafe' selection. The menu is eclectic and has something for just about everyone. Enjoy a coffee, hot cocoa, or gelato while you shop to satisfy your sweet tooth. 
But as the adage goes, it is better to give than to receive. Is there really a lovelier way to say thank you, I love you, or just let someone know that they're on your mind than to send them a gift...and a sweet one at that? It's truly a great gift idea. The shoppe features a wide variety of confectionery treats. You're sure to find something to please yourself or the special loved one you give this gift to. Local delivery is available on the wide variety of unique gift packaging that they offer.
The shop offers a unique and novel option of a small can that looks like a paint can and is delivered with it's own paint can opener with the wonderful name of CANdygrams. You can choose a custom sticker to add to the outside and fill the inside with a variety of candy the store offers that suits your needs. 
What a great gift idea for: 
The college student in your life to make final or midterm time a little less difficult. It may even serve to make them a bit less homesick. 
You may want to send it as a corporate gift to that business that you are working on "building" a new relationship with or that business that you just started a new relationship. 
Why not give it as a housewarming gift or as a welcome gift to the new neighbors? 
Use it to celebrate the end of your remodeling project...or to hint at a new one. 
Give it to the little (or big) builder in your life.
To that crafty lady who can transform anything with a can of paint.
You can even fill it with the Simply Sweet Shoppe's Lego candy!  What a perfect fit for the paint can motif.  
The CANdygrams also come in designs for the 1950's/1960's/1970's/1980's and can be filled with candies from each decade.
The possibilities are endless! It's a great gift idea for just about anyone and everyone you know.
 
So, if you are looking to give a unique, thoughtful and simply sweet gift to yourself or someone else, visit Hamilton County, Indiana to give (or receive) the adorable paint can filled with delicious candies, CANdygrams!