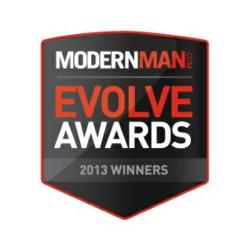 "... web commerce is changing the way men shop, so we're awarding companies that are best utilizing the web to produce truly innovative products." -Ky Henderson, Editor-in-Chief
Santa Monica, California (PRWEB) February 05, 2013
ModernMan.com, a leading online publisher of men's lifestyle content, today announces the winners of its second annual Evolve Awards, recognizing innovators across 11 categories that are most important to men's lifestyle.
The ModernMan.com Evolve Awards salute outstanding products and companies that exemplified intelligence and innovation during the previous year. The winners, selected by Modern Man's editorial team, span categories including technology, entertainment, grooming, auto, food, and apparel.
This year's winners draw from well-established brands including Degree Men, Sony, Tesla and Dove Men, as well as up-and-comers such as Ernest Supplies, Tommy John and Makerbot. Web commerce innovators such as Trunk Club and Cooper & Kid are also noteworthy inclusions in this year's awards.
To see all 36 winners, visit: http://www.modernman.com/2013-evolve-awards/
"With this year's Evolve Awards, we're recognizing forward-thinking companies and products that reflect the modern man's lifestyle," says Ky Henderson, editor-in-chief of ModernMan.com. "For instance, web commerce is changing the way men shop, so we're awarding companies that are best utilizing the web to produce truly innovative products. And we're featuring brands across a wide range of categories, from grooming to tech to apparel."
ModernMan.com is operated by Total Beauty Media Group, a top publisher of holistic wellness content. The Total Beauty Media Group portfolio also includes TotalBeauty.com, BeautyRiot.com, and LimeLife.com. The four properties drive more than 12 million unique monthly visits, and deliver content via a multimedia platform of web, mobile, email and video.
ABOUT MODERNMAN.COM
ModernMan.com features informative and entertaining articles, videos, reviews, celebrity interviews, and other content across categories such as Grooming, Gear, Love & Sex, and Style. The site targets males 21-39 who want to gain an edge in every facet of their lives.
ABOUT TOTAL BEAUTYMEDIA GROUP
Founded in 2007, Total Beauty Media Group operates TotalBeauty.com, home of the largest database of independent, unbiased beauty product reviews for women. TotalBeauty.com features hundreds of thousands of user-generated reviews, spanning more than 55,000 products, including most known prestige, mass-market, salon, and spa products. In addition, the site publishes daily editorial coverage of beauty news and trends, including TotalBeauty.com TV, an immense library of beauty how-to videos.
Total Beauty Media Group's portfolio of digital beauty, wellness, and lifestyle media properties include: TotalBeauty.com, BeautyRiot.com, LimeLife.com, and ModernMan.com. Total Beauty Media Group is backed by USVP and Wallington Investments and based in Santa Monica, Calif. For more information about Total Beauty Media Group, visit TotalBeautyMedia.com.
MEDIA CONTACT
Mary Dolan
mdolan(at)totalbeauty(dot)com
310.399.7400 x126