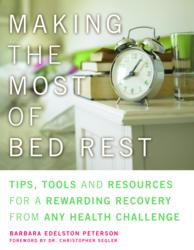 This book will serve as a guide to help patients make the most of their 'time off'. Bed rest should be seen as an opportunity for self reflection, quieting the mind and finding strength from within, not a punishment.

-- Leslie Kardos, MD
(PRWEB) February 01, 2013
While we all may fantasize about a few days in bed for some good R&R, it's a completely different feeling when a doctor prescribes it. Truth be told, millions of people are prescribed bed rest from their physician. In the case of Barbara Edelston Peterson, she faced two episodes of bed rest for two completely different reasons: a challenging pregnancy and a serious accident. Barbara herself is a world-class triathlete. This winning attitude inspired her to use her unique experiences to help others confronting medical bed rest, turning recuperation into a productive and rewarding experience.
Making the Most of Bed Rest provides a one-of-a-kind guide to turning recuperation into a productive and rewarding experience. Find out how to transform a bed into "Command Central" — beat loneliness by staying connected to the world via family, friends, and the Internet; plan weekly and daily schedules of tasks and events; start personal projects like reading, learning a craft, or volunteering. At the time of each medical emergency, she needed something that did not exist: a resource explaining how to best survive and be productive in such restrictive conditions. Towards the end of her first term of bed rest, Peterson knew she had to share her experiences, many discovered through trial and error in her and her husband's journey to pioneer through bed rest. Making the Most of Bed Rest is the companion to prescribed immobility—a book loaded with compassion and courage, practical tips, and reminders of how to reframe your attitude to be positive and productive.
Barbara Edelston Peterson has dedicated her life to health and wellness, and improving the lives of people of all ages through exercise, self-awareness, and the power of positive thinking. Now fifty-six years old, she is an author, motivational speaker, sports psychologist, world-class triathlete, wife, and mother of two daughters. She is uniquely qualified to inspire and educate people recovering from physical limitations as a result of injury, illness, or pregnancy. Barbara is the author of The Bed Rest Survival Guide (1998), the founder of The Power to Exercise, and is a contributor to Ms. Fitness, Triathlete, and Women's Health. To contact Barbara and to read her blog, please visit her website at http://www.bedrestwellness.com. She lives in Berkeley, California.
"WOW! Congratulations to the author and also to her audience for being focused on the possibilities for healing! Bed rest—short- or long-term—is the process of adapting and healing. This book encourages both the patient and his/her support system to gain an adaptive attitude and be open to 'adventure' in every part of life, including times of unexpected physical confinement. Bed rest then becomes the right method, and a gift, to help cure medical challenges." —Craig N. Bash, M.D., M.B.A. Neuro-Radiologist and Associate Professor, Uniformed Services School of Medicine
"Peterson presents superb solutions for weathering new life conditions, and teaches us to utilize the opportunity for great productivity, and happiness. A must-read with every prescription of bed rest." —Ame Mahler Beanland, co-author of the New York times Bestseller NESTING: It's a Chick Thing and POSTCARDS FROM THE BUMP: A Chick's Guide to Getting to Know the Baby in Your Belly