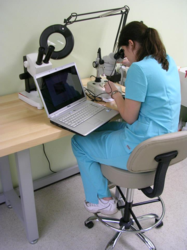 We're on schedule to produce 100,000 St Beetles
Greentown, PA (PRWEB) February 05, 2013
Tree-Savers™ is reporting record numbers of St Beetles successfully raised and ready for distribution to the public in the fight against HWA. According to Jayme Longo, "we're on schedule to produce 100,000+ adult St Beetles for commercial distribution this first season."
This is encouraging news in the fight against HWA infestation of eastern and Carolina hemlock forests. Though rigorous scientific research has proven the St Beetle to be a highly effective biological control of the invasive Hemlock Woolly Adelgid, the problem to date has been the unavailability of the predator beetle for massive deployment. Tree-Savers new biological control laboratory which produces the beetle for commercial distribution is changing that. The success of their first breeding season and the availability of 100,000 beetles mean that forest service managers and private land owners now have new capability to stop and reverse HWA infestation. "It's not too late to save these majestic trees" says Longo.
About the St Beetle
The St Beetle is highly effective at stopping and reversing the spread of HWA because the voracious predator beetle only feeds on HWA and its life-cycle is synchronized with the life-cycle of HWA. The greater the HWA infestation, the faster the St Beetle reproduces. The reason HWA has spread so rapidly across eastern hemlock forests is that when the invasive HWA was introduced from Japan the St Beetle – its natural predator – did not come with it. Therefore, HWA has been able to consume entire forests unfettered in a short amount of time.
Now that Tree-Savers is producing record numbers of the predator beetle, there is new hope for bringing HWA under control. However, people who care about saving the hemlock forests have to do their part. Tree-Savers can supply the beetles and offer expert guidance, but forest service managers and property owners have to get the beetles on the trees. "We're encouraged" says Longo. "Of the 100,000 in production, we've already received reserved orders for 25,000 beetles."
About the Tree-Savers Lab
The reason for the success of the Tree Savers lab is that they've mastered the technique of rearing massive quantities of the beetle in a short amount of time. This is not only good news for the hemlock but the consumer. Mass production achieved quickly keeps the cost of the beetle down. "By providing such a high volume of St Beetles for distribution and release, there is no reason why the infestation of HWA can't be brought under complete control within 10-15 years" predicts Longo.
About Tree-Savers™
Tree-Savers™ is part of a family of companies devoted to developing and implementing all-natural, restorative bio-technologies that are scientifically proven to reverse environmental destruction. According to John Tucci, president of both Tree Savers™ and Lake-Savers LLC, "We believe nature always has the answer if we're willing to look deep enough. Don't just treat the symptoms, restore the natural system. Whether it's restoring a lake's inherent capacity to process excess nutrients from the watershed or restoring hemlocks using biological control, we've found that nature has a better way. Not only are these all-natural technologies effective, they're intrinsically sustainable."
For more information about Tree-Savers™ and Lake-Savers LLC, visit their websites.
http://www.tree-savers.com
http://www.lake-savers.com