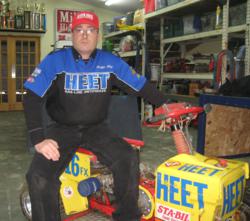 "On this Hedge Hog Day I cannot see,
my shadow cast near me.
So with nerves of steel, fresh fuel and grease,
I shall once again begin the chase." Lawn Mower Racer Mike "Hedge Hog" Miller.
Pleasant Prairie –
WI (PRWEB) February 01, 2013 -- With the temperature hovering just above zero on the day before Ground Hog Day, the frigid air smacked U.S. Lawn Mower Racing Association sod stomper Mike "Hedge Hog" Miller on the Second Annual "Hedge Hog Day," as he donned his racing gear and coaxed his 80-mph racing mower "Hedge Hog" from its burrow as the world waited to see if "Hedge Hog" would see his shadow.
After a few hot laps around his frosty backyard, he turned to Bruce Kaufman, "Mr. Mow It All" U.S. Lawn Mower Racing Association President to translate his prediction as to when he would begain his annual quest for bladeless racing glory. Spoken in "Mowerese," a language understood only by Mr. Mow It All, the news was shared with the world:
HERE YE, HERE YE.
"On this Hedge Hog Day I cannot see,
My shadow cast near me.
So with nerves of steel, fresh fuel and grease,
I shall once again begin the chase.
To stomp the sod and battle the lawn,
To race my mower, hither and yon.
On April Fool's Day I will begin my quest,
To become Lawn Mower Racing Champion,
To be the best.
For 20 years I've been rockin' and mowin',
I am the HEDGE HOG, and I'm not slowin'!"
Established in 2012, "Hedge Hog Day", is held the day before the world famous Ground Hog Day to remind America's lawn mower racers that the STA-BIL National Lawn Mower Racing Season is fast approaching. At the Inaugural "Hedge Hog Day" in 2012, Miller did not see his shadow. If the "Hedgehog" did see his shadow, he would have returned to his garage to make final preparations for his debut, which would have taken place in the warmth of the summer sun at the annual Huntington's Disease Race For Research, the third weekend in July in Sparta, Michigan.
The "Hedge Hog" is a 1968 E.T. Rugg, with a 390cc Honda Power motor, that turns 45 horsepower and will go zero to 50 in 5.5 seconds, reaching a top speed of 80 mph. Miller built "The Hedgehog" 16 years ago and has piloted his trusty ride to numerous STA-BIL Series victories and championships in his 20-year lawn mower racing career, including an 8th place National Points finish in the 2012 USLMRA STA-BIL Series. Miller began his USLMRA career in 1993 and will mark his 20th consecutive year stomping sod and tearing up turf at races held across the country.
"Hedgehog" is sponsored by HEET Gas-Line Antifreeze & Water Remover. HEET removes water from the fuel system to prevent gas-line freeze-up and harmful rust and corrosion. Miller also uses Iso-HEET Premium Fuel-line Antifreeze, Water Remover & Injector Cleaner. It absorbs five times more water than regular gas-line antifreeze, while it cleans fuel injectors and carburetors. It's designed for use year-round in all 2-cycle and 4-cycle gasoline engines and diesel engines.
About the U.S. Lawn Mower Racing Association:
Founded on April 1, 1992, the USLMRA sanctions and presents organized lawn mower racing across America including the 20-race STA-BIL® Lawn and Garden Mower Racing Series and a network of 50 Local Chapters and Affiliated Clubs hosting more than 140 sanctioned races nationwide every year. STA-BIL® lawn mower racers compete in ten classes at speeds up to 60 mph with all cutting blades removed. Race mower classes include Junior Prepared (8 mph), IMOW (20 mph), Prepared (50 mph) and Factory Experimental (60 mph). Racers compete for trophies, points and bragging rights, never for purse money. The annual STA-BIL® Keeps Gas Fresh Finals national championship is televised on Fox Sports Net "Race Freaks" USLMRA sponsors include USLMRA sponsors include STA-BIL Fuel Stabilizer, HEET GasLine Antifreeze, Diesel Power!,104+ Octane Boost, No Leak, Alumaseal, Start Your Engines!, K&N Filters, Facelube, Wheelies Tractor Wheel Covers, Auggiedog Poop Pickup Tool and GnomeFrenzy.com. For mow info please visit http://www.letsmow.com.
About Gold Eagle Co., makers of STA-BIL Fuel Stabilizer, USLMRA Title Sponsor:
For more than 80 years, Gold Eagle® Co. has been an industry pioneer in the production and distribution of aftermarket fluids and additives. We create products that help preserve, protect and enhance the performance of engines everywhere. We are a leader in the product development, manufacturing, marketing, and distribution of branded engine performance and maintenance chemicals. Privately held and headquartered in Chicago, Gold Eagle Co. is the manufacturer of leading brands, including STA-BIL® Fuel Stabilizer, HEET® Gas-Line Antifreeze, NO LEAK® Treatments, 104+® Octane Boost, Start Your Engines!®, DieselPower!® Diesel Additives, 303® Aerospace Protectant and 303® Fabric Guard. To view our complete line of Gold Eagle products or learn more about the Company, please visit goldeagle.com or "like" our Gold Eagle Co., STA-BIL, Start Your Engines! or Engine Answerman pages on Facebook. For product questions, please call us at 800-621-1251 or follow us on Twitter @GoldEagleHelp.